CIVIL WAR COMING TO AMERICA
Everybody Knows the Fight was Fixed

In this doll's house of propaganda into which America has been converted, a great many of our basic assumptions are totally illusory.
Americans who voted for either Trump or Biden in the 2020 election are like Torvald clones. They refuse to open that door so they might close it behind them.
They live in the doll's house – all 146+ million of them. Like Torvald, they are comforted. They are programmed and propagandized, embracing the illusion that the electoral system is not structured and controlled to make sure no significant change can occur, no matter who is president. It is a sad reality promoted as democracy.

They will prattle on and give all sorts of reasons why they voted, and for whom, and how if you don't vote you have no right to bitch, and how it's this sacred right to vote that makes democracy great, blah blah blah. It's all sheer nonsense. For the U.S.A. is not a democracy; it is an oligarchy run by the wealthy for the wealthy.

This is not a big secret. Everybody knows this is true; knows the electoral system is sheer show business with the presidential extravaganza drawing the big money from corporate lobbyists, investment bankers, credit card companies, lawyers, business and hedge fund executives, Silicon Valley honchos, think tanks, Wall Street gamblers, millionaires, billionaires, et. al. Biden and Trump spent over 3 billion dollars on the election. They are owned by the money people.

Both are old men with long, shameful histories. A quick inquiry will show how the rich have profited immensely from their tenures in office. There is not one hint that they could change and have a miraculous conversion while in future office, like JFK.
FULL ARTICLE HERE:
http://www.informationclearinghouse.info/55886.htm
Elon Musk says he tested both positive and negative twice for COVID-19 in one day and claims 'something extremely bogus' is happening
Musk revealed he took four tests in a day, 'same machine, same test, same nurse'
Tesla boss said two were positive, two negative. He called it 'extremely bogus'
The 49-year-old warned 'if it's happening to me, it's happening to others'
Musk has repeatedly downplayed virus - calling lockdown measures 'fascist'
Globalist Klaus Schwab:
World Will "Never" Return To Normal After COVID
In his book Covid-19: The Great Reset, World Economic Forum globalist Klaus Schwab asserts that the world will "never" return to normal, despite him admitting that coronavirus "doesn't pose a new existential threat."
Breitbart's James Delingpole unveils how Schwab is even more explicit in his book about the elite's plan for exploiting the COVID pandemic than in his public statements.
Schwab has continually pushed for COVID to be exploited to push for a new world order, claiming, "Now is the historical moment of time not only to fight the… virus but to shape the system… for the post-corona era."
However, he goes further in the book, making it clear that the financial elite will never allow life to return to normal, suggesting that rolling lockdowns and other restrictions will become permanent.
"Many of us are pondering when things will return to normal," writes Schwab.

"The short response is: never. Nothing will ever return to the 'broken' sense of normalcy that prevailed prior to the crisis because the coronavirus pandemic marks a fundamental inflection point in our global trajectory."
Schwab makes clear that the 'Fourth Industrial Revolution' or 'The Great Reset' will fundamentally change how the world operates.
"Radical changes of such consequence are coming that some pundits have referred to as 'before coronavirus' (BC) and 'after coronavirus' (AC) era. We will continue to be surprised by both the rapidity and unexpected nature of these changes – as they conflate with each other, they will provoke second-, third-, fourth- and more-order consequences, cascading effects and unforeseen outcomes," he writes.
Namely, technocratic dictatorial rule by a tiny elite, the "green new deal," the gradual abolition of private property, a guaranteed minimum wage that will see jobs replaced by robots, a crackdown on personal liberties and curtailing freedom of movement.
A senior U.S. Army official said that mask wearing and social distancing will become permanent, while CNN's international security editor Nick Paton Walsh asserted that the mandatory wearing of masks will become "permanent," "just part of life," and that the public would need to "come to terms with it."
Harris County Public Health to conduct survey, go door-to-door to collect blood
Personal PK OPINION: TRUMP has been played by Jared Kushner / of the Luciferian Clan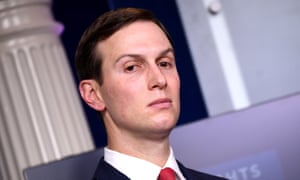 Jared Corey Kushner is an American investor, real estate developer, and newspaper publisher who is a senior advisor to his father-in-law, Donald Trump, the 45th president of the United States. Kushner is the son of the former real-estate developer Charles Kushner and is married to Ivanka Trump, President Trump's daughter and fellow advisor.
Wikipedia
Trump made a big mistake for which he is beginning to pay (back).
Sadly for America, Americans, and The World - Trump is a Puppet of the New World Order Evangelical Zionists. Nothing further needs be said, if you don't "get it" YOU are one of THEM.
6 days agoPresident Trump's son-in-law Jared Kushner has tried to talk him into conceding the election, CNN reported late Saturday. The network, citing two sources, said that Kushner, a top White House ...
During his 39 years on Earth, Kushner has continuously failed upwards. Despite being an unremarkable student, he got a place at Harvard; according to spokespeople for Kushner Companies, this was unrelated to his dad giving $2.5m to the university. After buying a skyscraper at the very top of the real estate market, Kushner was miraculously bailed out by a company with links to the government of Qatar – just months before a potentially ruinous $1.4bn mortgage was due. Wherever Kushner is, questionable deals, questionable ethics and a crowd of yes men seem to follow. The world is constantly remade to reflect the reality that he wants to see. Indeed, shortly after the backlash to Kushner's comments about the federal stockpile
Why Jared Kushner could be the most dangerous man in the US
Arwa Mahdawi
Jared Kushner Can't Pass His Security Clearance Investigation, Officials Say
Experts from seven of the nation's leading law firms specializing in security clearance reviews say Jared Kushner's access to classified information should be withheld until a final decision can be made on his official application.
November 13, 2020 / BREAKING NEWS
US Federal Election Commission Chairman Says Voter Fraud Is Taking Place
The US Federal Election Commission Chairman Trey Trainor believes voter fraud is taking place in states still counting ballots and that the 2020 US Presidential Elections may be illegitimate.
Trainor said locations not granting observers access to watch the ballot counting process could be involved in voter fraud.
"I do believe that there is voter fraud taking place in these places," he said. "Otherwise they would allow the observers to go in."
Despite winning a court order, which allows the Trump campaign to send observers to watch ballot counting in Pennsylvania from six feet away, Trainor said ballot watchers "have not been allowed into the polling locations in a meaningful way."
He said when observers have been permitted to watch, the goalpost has been moved away from the six feet required by the court order.
He said the lawsuits filed by the Trump campaign are "very valid allegations" that need to be "fully vetted" by the court system. He predicts some of the legal challenges will likely end up in the Supreme Court.
Don't ASS-ume
(lest ye make an ass out of yourself)
I am pleased to see TRUMP squirm a little, he has caused his own downfall but at the same time, I consider it TREASON that the EX-CIA and DEMS) others are trying PUBLICLY to plan a COUP against THE (sitting) PRESIDENT. Well this only shows you how deep in the swamp our (claimed) government has sunk.
The massive psyop is ongoing. Everyone familiar with the Transition Integrity Project knew how this would imperatively play out. I chose to frame it as a think tank gaming exercise in my Banana Follies column. This is a live exercise. Yet no one knows exactly how it will end.
US intel is very much aware of technology that can abet election fraud. That includes NSA software that can interfere with any network, as detailed by Edward Snowden, and manipulate vote counting; the Hammer supercomputer and its Scorecard app that hacks computers at the transfer points of state election computer systems and outside third party election data vaults; and the Dominion software system, known to have serious security issues since 2000 but still used in 30 states, including every US swing state.
The key actor is the Deep State, which decides what happens next. It has weighed the pros and cons of placing as a candidate a senile, stage 2 dementia neocon warmonger and possible extortionist (along with his son) as "leader of the free world," campaigning from a basement, incapable of filling a parking lot in his rallies and seconded by someone with so little support in the Democratic primaries that she was the first to drop out.
Talk of a New Resistance is spreading like wildfire.
Trumpism, with 71 million + votes, is firmly established as a mass movement. No one in the GOP commands this kind of popular appeal. By sidelining Trumpism, the GOP may be committing seppuku.
The Deep State is reasoning that with Biden – or, sooner rather than later, Supreme shakti and Commander-in-Chief Maa Durga Kamala – the path gets smoother towards the Davos Great Reset. After all, to reset the chess pieces, first the chessboard must be knocked over. This will be one step beyond Dark Winter – which not accidentally was evoked by teleprompter-reading Biden himself on the final presidential debate. The script gets ominously closer to the Rockefelller Foundation's 2010 Lock Step.
Meanwhile, Plan B is kept in ready, steady, go mode: the lineaments of a global rampage, focused on "malign" Russia's sphere of influence to satisfy a "revived" NATO and the military-industrial complex, which selected the now media-appointed President-Elect in the first place because he's no more than a pliant cardboard figure.
Lock Step is one of four scenarios in a Rockefeller Foundation-funded paper, released in May 2010, with the bland title "Scenarios for the Future of Technology and International Development [PDF]," and it includes a method to gain complete prison-like control of the entire population by infecting them with a biological pandemic.
In cooperation with the Global Business Network the simulation of futurologist Peter Schwartz, "a world of tighter top-down government control and more authoritarian leadership, with limited innovation and growing citizen pushback" is described as Lock Step.[1]
"In order to protect themselves from the spread of increasingly global problems — from pandemics and transnational terrorism to environmental crises and rising poverty — leaders around the world took a firmer grip on power." [2] The firmer grip on power is reflected in the other scenarios as well, in a mix of soft power and hard power techniques.
A video on 153News.net: 'Operation Lockstep Rockefeller Plan for Martial Law 2010' (2m20s) (2020-06-02)
The Transition Integrity Project (TIP) was a series of June 2020 political scenario exercises in the United States, involving over 100 current and former senior government and campaign leaders, academics, journalists, polling experts and former federal and state government officials. The exercises examined potential disruptions to the 2020 presidential election and transition.[1][2][3][4] TIP is not an organization, but rather a short-term project run under the auspices of the organization Protect Democracy.

War on America's Military Veterans

The plight of veterans today—and their treatment at the hands of the U.S. government—remains America's badge of shame.'

PERHAPS this and many other examples will help you understand Peter Kawaja's fight for all Veterans and his Law Suit against the government for Crimes Against America, America Kills Its Own. PGS / aka Gulf War Plague, aka COVID-19 has been seeded into the Veteran Community spread to the world civilian populations, mutated, and laying dormant all these years, waiting for PART-2 aka COV-2 to achieve Global downsizing of the world's population. Veterans have always been considered a threat to the Deep State, and the VA has been used to keep veterans "medicated, and tracked" - what is now unfolding upon the entire US (and world) populations. Part-2 is Selected Kill
IF you have not already, listen to this audio excerpt

The 2020 presidential election may be over, but nothing has really changed.

The U.S. government still poses the greatest threat to our freedoms.

More than terrorism, more than domestic extremism, more than gun violence and organized crime, even more than the perceived threat posed by any single politician, the U.S. government remains a greater menace to the life, liberty and property of its citizens than any of the so-called dangers from which the government claims to protect us.

This threat is especially pronounced for America's military veterans, especially that portion of the population that exercises their First Amendment right to speak out against government wrongdoing.

Consider: we raise our young people on a steady diet of militarism and war, sell them on the idea that defending freedom abroad by serving in the military is their patriotic duty, then when they return home, bruised and battle-scarred and committed to defending their freedoms at home, we often treat them like criminals merely for exercising those rights they risked their lives to defend.

The government even has a name for its war on America's veterans: Operation Vigilant Eagle.

As first reported by the Wall Street Journal, this Department of Homeland Security (DHS) program tracks military veterans returning from Iraq and Afghanistan and characterizes them as extremists and potential domestic terrorist threats because they may be "disgruntled, disillusioned or suffering from the psychological effects of war."

Coupled with the DHS' dual reports on Rightwing and Leftwing "Extremism," which broadly define extremists as individuals, military veterans and groups "that are mainly antigovernment, rejecting federal authority in favor of state or local authority, or rejecting government authority entirely," these tactics bode ill for anyone seen as opposing the government.

Yet the government is not merely targeting individuals who are voicing their discontent so much as it is taking aim at individuals trained in military warfare.

Don't be fooled by the fact that the DHS has gone extremely quiet about Operation Vigilant Eagle.

Where there's smoke, there's bound to be fire.

And the government's efforts to target military veterans whose views may be perceived as "anti-government" make clear that something is afoot.

In recent years, military servicemen and women have found themselves increasingly targeted for surveillance, censorship, threatened with incarceration or involuntary commitment, labeled as extremists and/or mentally ill, and stripped of their Second Amendment rights.

An important point to consider, however, is that under the guise of mental health treatment and with the complicity of government psychiatrists and law enforcement officials, these veterans are increasingly being portrayed as threats to national security.

In light of the government's efforts to lay the groundwork to weaponize the public's biomedical data and predict who might pose a threat to public safety based on mental health sensor data (a convenient means by which to penalize certain "unacceptable" social behaviors), encounters with the police could get even more deadly, especially if those involved have a mental illness or disability coupled with a military background.

That the government is using the charge of mental illness as the means by which to immobilize (and disarm) these veterans is diabolical. With one stroke of a magistrate's pen, these veterans are being declared mentally ill, locked away against their will, and stripped of their constitutional rights.

If it were just being classified as "anti-government," that would be one thing.

Unfortunately, anyone with a military background and training is also now being viewed as a heightened security threat by police who are trained to shoot first and ask questions later.

Feeding this perception of veterans as ticking time bombs in need of intervention, the Justice Department launched a pilot program in 2012 aimed at training SWAT teams to deal with confrontations involving highly trained and often heavily armed combat veterans.

The result?

Police encounters with military veterans often escalate very quickly into an explosive and deadly situation, especially when SWAT teams are involved.

Given the government's increasing view of veterans as potential domestic terrorists, it makes one think twice about government programs encouraging veterans to include a veterans designation on their drivers' licenses and ID cards.

Hailed by politicians as a way to "make it easier for military veterans to access discounts from retailers, restaurants, hotels and vendors across the state," it will also make it that much easier for the government to identify and target veterans who dare to challenge the status quo.

After all, no one is spared in a police state.

Eventually, we all suffer the same fate.

It stands to reason that if the government can't be bothered to abide by its constitutional mandate to respect the citizenry's rights—whether it's the right to be free from government surveillance and censorship, the right to due process and fair hearings, the right to be free from roadside strip searches and militarized police, or the right to peacefully assemble and protest and exercise our right to free speech—then why should anyone expect the government to treat our nation's veterans with respect and dignity

It's time to end the government's war on the American people, and that includes military veterans.

Certainly, veterans have enough physical and psychological war wounds to overcome without adding the government to the mix. Although the U.S. boasts more than 20 million veterans who have served in World War II through the present day, large numbers of veterans are impoverished, unemployed, traumatized mentally and physically, struggling with depression, suicide, and marital stress, homeless, subjected to sub-par treatment at clinics and hospitals, and left to molder while their paperwork piles up within Veterans Administration offices.

At least 60,000 veterans died by suicide between 2008 and 2017.

On average, 6,000 veterans kill themselves every year, and the numbers are on the rise.

The plight of veterans today—and their treatment at the hands of the U.S. government—remains America's badge of shame.

So here's a suggestion: if you really want to do something to show your respect and appreciation for the nation's veterans, why not skip the parades and the flag-waving and instead go exercise your rights—the freedoms that those veterans swore to protect—by pushing back against the government's tyranny.

It's time the rest of the nation did its part to safeguard the freedoms we too often take for granted.

Constitutional attorney and author John W. Whitehead is founder and president of The Rutherford Institute. His new book Battlefield America: The War on the American People

Whether it's Trump or Biden, their foreign policy's the same. They're going to continue to level sanctions, invade countries, occupy countries, steal their wealth, enslave their people and do the very same to our united States of America.

Trump will now taste the deceit of his master for he has betrayed the people of America, our Military, and the world. He sold us all out.

Both Biden & Trump will enforce mandatory-forced vaccines, forced Lockdowns, Internment of the people.

Trump had a chance to do the right thing, but his HUBRIS and POMPOUS GODLIKE EGO got the better of him. He LIED, LIED, LIED, and failed to live up to what he said he would do if we voted for him in 2016 and has lied, lied lied on everything until this very day. Hillary and the DEMS did not forget him, and his ass-licking of the Jews is a slap in his face, he is now starting to feel the sting.

If anything could be worse, he has betrayed our US Military Men & Women, Veterans - to use them to infect our civilian population with ID2020/Gates Lucifer Vaccines, but making sure all our military accepts being vaccinated with the same killer and mind altering viral mutating PGS renamed and enhanced as COV-2 Selective Kill. He could have stopped the MADNESS of continuing to HYPE a false global Pandemic and ceased colluding with world governments to slaughter BILLIONS of HUMANS.

HE COULD HAVE BEEN A REAL HERO, INSTEAD HE TURNED OUT TO BE A VILLAIN SCARING THE AMERICAN PEOPLE THAT WE WOULD HAVE MILITARY COME TO OUR DOOR, DRAG US OUT, LEAVE OUR CHILDREN TO FEND FOR THEMSELVES AND LOCK US IN QUARANTINED CAMPS, MANY NEVER TO RETURN HOME. THEN FORCE OUR CHILDREN TO BE VACCINATED WITH ID2020 GATES VIRUS.

THAT TERRIFYING THREAT OF OPERATION WARP SPEED TIPPED THE VOTING SCALES ASSHOLE.

Of course Biden will simply pick up the ball and do the same thing or maybe worse, but Biden didn't get up in front of a camera and tell Americans what HE planned to do (was the same thing you BOASTED you were doing smart ass. KARMA.

I'll save the rest for a later post. YES - our guns will be taken from us, or many will volunteer to turn them in to get food and beg for a vaccine.

ENJOY YOURSELF, IT'S LATER THAN YOU THINK.

The new world economy includes the introduction of a digital currency, a universal basic income, vaccine requirements for travel, and "The World Debt Reset Program." A continuous cycle of lock downs into 2021 will eventually lead to an international economic collapse. Governments worldwide will offer citizens an alluring way out by promising to eliminate all personal debts

Citizens will have to forfeit ownership of any and all private property, accept a universal basic income, and enroll in the covid-19 and covid-21 vaccination schedule.

Note how insubstantial Trump has been, pretending to be what he isn't and claiming to have done what he hasn't. Does no one notice? He has heavy support from Evangelicals. Ask him to name the books of the Pentateuch, or the second book, or what church he regularly attended, or ever attended, in New York. He was going to end the wars, but what war has he ended? To reduce the trade deficit, but it has grown. To get rid of all illegal aliens within two years, but have they gone? To bring back factories from China and Mexico, but how many have returned? He is called a law-and-order President. Yet he hid, besieged, in the White House during the greatest eruption of lawlessness the country has ever seen, with a statue being pulled down across the street from his house. His handling of the virus? America remains hardest hit in the world, and it worsens by the day.

Trump, like all Presidents, has fulfilled the two critical jobs expected of him, protecting Wall Street and the military budget. What else has he done?

Almost nothing. All in good fun. But in the crucial field of international relations, he has been a disaster. I suspect that few of his followers in Flint and Gary study things beyond the borders. They should.

Here context matters. The US, or those who control the US, are trying to maintain American hegemony, or near hegemony, over the world. America has 600-800 military bases around the globe depending on what you regard as a military base. While many tens of thousands of America sleep on the sidewalks, while infrastructure crumbles, while standards of living fall and medical care is pricey but poor, the Pentagon always gets its budget. At the level of the White House, the Five-Sided Wind Tunnel, the arms industry, the important thing is to maintain the flow of money. And dominate the world.

Trump is the embodiment of this looking-for-a-fight attitude. Not good. He has surrounded himself with over-age Cold Warriors, with generals, with the pathologically aggressive hangers-on from think-tank Washington: John Bolton, Mike Pompeo, Nikki Haley, Steve Bannon, and minor squibs of like outlook. He has pulled the US out of the arms-control treaties, START, INF, Open Skies. He has pushed NATO against Russian borders. In the Legion halls of Idaho, this may seem virile, the sort of thing that John Wayne would do. Back the commies down. Show them who is boss. No. It is just pointless and dangerous.

Worse, there is a new kid on the block. China is growing. It behaves no worse than other countries, does not inflict on the world nearly the destruction and horror that the United States does, but it is growing. For Washington, this makes it not a competitor but an enemy. This is very much Trump's policy. Don't negotiate. Threaten. "Do as I say, or I will break you."

Those favoring the continuance of Empire might note that, even at this, Trump has been a disaster. The First Rule of Empire is Don't let your enemies unite. Trump, having made Russia and China into enemies (why?) has forced them to unite. This is—how shall I put it?—stupid. Russia and China are not natural allies. China is a crowded country with 1.4 billion smart, industrious people, rapidly growing influence, and a very long indefensible border with Russia. Russia has barely 146 million people, a comparatively static economy, vast empty lands with rich resources. The Russians may have noticed this. The two have had territorial disputes. This is not a marriage made, as we say, in heaven. Instead of playing them against each other, allying with one against the other, or leaving them the hell alone, Trump has forced them into close alliance.

This is Trump's policy, in the sense that if it happens during his presidency, it is his baby, though it is fairly evident that Pompeo is Trumps brains and Trump is Pompeo's enabler.

Then there is Iran, a geopolitical linchpin, having eighty million people, a large and competent military, and lots and lots of oil. Under the JCPOA, the nuke deal, the Iranians were posed happily to integrate themselves into the Western economy—buy hundreds of airliners from Boeing and Airbus, telecommunications gear, sell oil, have western companies develop its huge hydrocarbon reserves.

Then Trump pulled out of the treaty and, led by the egregious Pompeo, tries to starve the Iranians into installing a puppet government. Iran, seeing that the West is not friendly, turns to the East, allies itself tightly with Russia and China. Tehran and Beijing are about to sign a twenty-five year, multimanymuchoslotsa billion dollar development deal.

Three enemies, united, where none was before.

Fucking brilliant, Mike. Just fucking brilliant.

Then Trump had Soleimani, an Iranian hero, murdered. This doubtless played well with his partisans in Joe's Bar in Chicago, being manly and decisive and making America great again. It was also idiotic, making Iranians even less likely to cave to American pressure.

The same counterproductiveness appears in his "trade war" with China, in fact an attempt to wreck China commercially and technologically. This is packaged by Trump as "standing up to China," "deterring China," "containing China," but it might as accurately be called "encouraging the genie to leave the bottle," or "asking for it."

A quick example: Huawei was contentedly using Google's Android operating system on its smartphones. Android and iOS, both American, dominated the world market for operating systems. Huawei, with the predictability of sunrise, responded by crash-developing its own OS, Harmony. With equal predictability and suddenness it will improve it, further grow its app store (HMS, Huawei Mobile Services) and, on a guess, encourage other companies to use it. It will be said that a new OS won't work, can't compete, will take decades, and all the things that are customarily said of things China does. Wait.

Trump's result: A new and, likely, serious competitor to Google. Good job, Don.

There is more to come. Precisely because of Trump's technology-denial policy, China has launched a massive program to make itself tech-independent. It will take time, but it will happen. Every time China develops a replacement for an American product, US companies will lose the Chinese market for it—and shortly face a competitor.

The root of the matter? With Trump the country elected an attitude, not a President. Truculence, bravado, and an in-your-face aggressiveness are no substitute for competence. Trump has demonstrated repeatedly that he is blankly ignorant of history, geography, technology, the military. In Hawaii, when taken to the USS Arizona memorial, he didn't know what it was. He has opined that the Spanish flu of 1917 (his date) influenced the end of WWII. It would be instructive for a reporter to ask him what countries border Iran, where one finds the Strait of Malacca, and why it matters.

The more enthusiastic of his followers seem to be equally ignorant and, worse, have no idea why a President should know such things.

The US just experienced its biggest voter turnout in 150 years, yet it did not produce the so-called "blue wave" so many liberals were hoping for. Trump, the festering pile of orange dung that has haunted the Oval Office for the last four years, should have been crushed in any election in a free and equal society. Yet, nearly half of those who voted chose that proto-fascist dung heap, the one who ripped children from the arms of their parents and put them in cages as they sobbed uncontrollably. The same one who has openly encouraged violence from his more extremist fanbase. The one who said neo-Nazis were "very fine people." The one who commanded racist terrorists to "stand back and stand by." The one who has mocked healthcare professionals and science while a fully preventable pandemic surges across the country. The "grab em by the pussy" chauvinist who has been accused of sexual assault by at least 26 women. The one so many evangelicals sickeningly fawn over as if he were the American version of the biblical King David. The one who has consistently demonized the press as well as anti-racist and anti-fascist activists. continued here

The US Empire Is A Smiley-Faced Serial Killer

Israel might be the true undisputed winner in the 2020 election even though it was not on the ballot and was hardly mentioned at all during the campaign.

America After the Election: A Few Hard Truths About the Things That Won't Change

Have You Been Tolerant Of Lockdowns And Mask Mandates?

Would you continue to be if you learned that only a few thousand Americans have died of C19, and even many of that small number could have been saved by a treatment used worldwide but effectively banned in the USA?

Actual American fatalities from C19 have been vanishingly small.

In fact, that fatality total amounted to fewer than 100 during the pre-"lockdown" period from December of 2019 to mid-March, 2020 in which millions of Americans were infected-- as is very quietly acknowledged by even the CDC itself.

Plainly, this case fatality rate (CFR) didn't even remotely justify the "lockdowns" and mask-mandates and "social distancing" impositions which followed. Plainly, this CFR puts the lie to claims that these "mitigations" (and eventually vaccines) are necessary, now and in the future.

But no one is even talking about these eyewash-clearing facts.

Both the 2019-2020 seasonal flu and COVID-19 (C19) originated in East or Southeast Asia.

The flu appeared in October of 2019 (see this CDC graphic-- week 40 is the beginning of October), and C19 began spreading in November of 2019.

Both arrived in America (and everywhere else) with travelers from the area of origin or from places where someone from the area of origin had gone.

The vector (spread) mechanics of both diseases is the same (but with C19 being more aggressive, more persistent and with a longer contagion time for an infected carrier).

With fully a billion travelers flying during the months of November, 2019 to March of 2020, and with no restrictions in place of any kind on entry to the USA before the end of January, 2020 (and then only on travelers direct from Wuhan, and only those who were not American citizens), C19 MUST have entered the USA early in the 4+ month period of November, 2019 to March, 2020, and MUST have tracked (and most likely exceeded) the spread rate of the seasonal flu.

With the CDC figuring that 38-54 million flu infections happened in America between October, 2019 and March, 2020, and in light of the foregoing facts, there MUST have been many millions of C19 infections in America between November 2019 and March of 2020.



Let that sink in.

There MUST have been many millions of C19 infections in America between November 2019 and March of 2020

. All but the very last of those-- which means millions and millions of infections-- ran their course from beginning to end before mid-March, 2020. The total number of C19 fatalities during that period is only 97.

That's right, 97. See the CDC's report to this effect here; first table; it is the column on the left, in bold, that lists "all deaths involving COVID-19".

MILLIONS of infections, running their course from start to finish, yielding only 97 fatalities.

I know, this is so much at odds with the sustained, delivered, drumbeat narrative that it almost prompts a mental hiccup making it invisible and instantly forgotten, right? "That can't be right!" you mutter to yourself...

But it IS right.

OKAY - if you want to know who put this research together, drop me an email and you can know more. The author wants to know "who cares" aka who gives a damn.

PS: don't be confused about the above document - in it is not addressed who created (modified PGS.MI, and whose LAB (not China). If you missed tons of documentation at this website, sad for you.

Snippet regarding Dr. Nicolson and exchanges between Boyd Graves: your inaction during the early critical part of the alleged "mystery illness" was part and parcel to the government's plan to allow the synthetic microbe to seed into the human genome. The United States needed time for the synthetic microbe to reach the true target group.
Lucifer
UPDATES COMING

Birds of a feather flock together
THE NEW WORLD ORDER-OUT OF THE SEAT OF BABYLON
Reunited at Babylon : The significance of the Persian Gulf War transcends Kuwait, it even transcends the concept of the new world order enunciated by George Bush. The Gulf War is significant because the action of the United Nations to authorize military action against Iraq was the first time since Babel that all the nations of the earth acted in concert with one another (for Evil).

I find it fascinating that this took place against the very place where the nations had been divided, the successor nation to ancient Babel. It is as if some power reached out from Babel, where the first world rebellion against God was squashed, and once again called the nations of the world to unity (for Evil).

And on the VERY DAY the unity of nations was consummated, General Brent Scowcroft, National Security Advisor to the president of the United States, longtime Council on Foreign Relations member, and former aide and business associate of Henry Kissinger, announced, in an interview with Charles Bierbauer of CNN, the beginning of a New World Order.
Then the sixth angel sounded : And I heard a voice from the four horns of the golden altar which is before God, saying to the sixth angel who had the trumpet, "Release the four angels who are bound at the great river Euphrates." So the four angels, who had been prepared for the hour and day and month and year, were released to kill a third of mankind. Revelations 9:13-14.
This world horror would be motivated by demonic spirits and would be all consuming. The result of their release would now cost the lives of some 2 billion people.
If there is any doubt in your mind that this planet is governed by Satanic, Dark Evil Creatures
THE FEATHERED SERPENT
Not only did they conceal their ancient secret religion in the Great Seal of the United States, they also concealed it in the name of this nation. William Josiah Sutton, in his book entitled THE ILLUMINATI 666, added another very important piece of the puzzle to the story. He wrote this: "The ancient Mayans [meaning the Mayan Indian tribe] of the Yucatan in Mexico [a peninsula on the north east side of Mexico] worshipped the serpent god under the name of Can. Here we find the origin of our [American] word canny, shrewd or serpent like. The Babylonians worshipped Can, the serpent, and Vul, the god of fire. The Romans simply combined the words into Vul-can, the Roman god of fire, from whence comes our word Volcano.
The American people have been told by the majority of the historians who have examined this nation's past, that the name America was named after Amerigo Vespucci, supposedly the navigator for Christopher Columbus. But there is an alternative explanation.
William Still, on pages 45 and 46 of his book entitled NEW WORLD ORDER, offers the following explanation: "Even the name America may be the product of secret societies. In an '1895 edition of a magazine named LUCIFER, published by the occult Theosophical society, author James Pryse gave an interesting insight into the meaning of the word America.
He said that the supreme god of the Mayan culture of Central America, known as Quetzacoatl elsewhere, was known as Amaru [pronounced Uh mar oo] in Peru. Amaru's territory was known as Amaracu [Uh mar oo coo.] According to Pryse, from the latter comes the word America. Amaracu is literally translated land of the serpent.
Mr. Pryse was not the only one to make this claim. Robert B. Stacy-Mudd wrote a book entitled ATLANTIS, MOTHER OF EMPIRES, in which he attempts to make the claim that the Mayans came from the nation known as Atlantis, an island that allegedly sank during an earthquake. This is not the place to examine his charges, but he does draw another startling conclusion: "Quetzacoatl, the Toltec god, was known as Kulkulkan among the Mayas. In Peru he was known as Amaru. But both of these names have an identical meaning, i.e, the feathered serpent. From the Peruvian name comes Amaraca. (The reader can now understand why the head of the serpent on the walls of the Masonic Temple in Washington D.C. has wings. It is a "feathered serpent.")
Mr. Still adds one of the thoughts of another writer who claims to know the truth about the origins of the name America. (It is important to note that not only the people living in the United States of AMERICA are Americans. All of the people who live in the "New World" are Americans: the continents are called North America and South America, and regions are called Latin America, and Central America.) He writes: "... Manly Hall [in his book entitled AMERICA'S ASSIGNMENT] claims that since the serpent is frequently a symbol of Lucifer, it is no exaggeration to extrapolate from this that America may well mean land of Lucifer.
That revelation, that America was named after Amaru, another name for the feathered serpent god of part of Central America and South America, and that Amaru was another god concealing the worship of Lucifer inside its faith. That means that this nation's founding fathers knew that they were announcing THE BIRTH OF THE NEW WORLD ORDER when they dedicated this nation to Lucifer, also known as Satan, or the devil!
They knew who America was named after! This is why they placed the great pyramid, a symbol of the temple of Lucifer worship, in the reverse side of the Great Seal of the United States. This is why they placed the eye of Osiris, a sun-god concealing a worship of Lucifer, above his "house" on the Reverse side of the Great Seal. This is why they waited to form this nation after there were 13 states. This is why they selected the American eagle as this nation's national bird.
They knew.
1. America was named after Lucifer.
2. America has a secret destiny.
3. That destiny is that America is going to lead the world into this secret destiny: a New World Order.
THE BOOK
The Book of Eli
The Book of Samuel
The Book of Enoch
The Book of Kawaja
The first trailer for the Michael Bay-produced pandemic thriller Songbird has arrived
The movie imagines a dystopian future in which COVID-19 has mutated, keeping the world in lockdown for a fourth year.
SONGBIRDMOVIE
Predicted in 1994 when Peter Kawaja authored;
"
The Saddest Chapter Of Americas History
Is Now Being Written"
click to watch - vid will play in 15 seconds
in 1994 Peter Kawaja wrote:
THE SADDEST CHAPTER OF AMERICA'S HISTORY


IS NOW BEING WRITTEN (1994)
[excerpt from 8-page document]

........THIS INFORMATION WILL SHOCK, SURPRISE, AND SADDEN YOU, BUT YES, THE WORST IS YET TO COME IF AMERICANS DO NOT WAKE UP.
A nationwide/worldwide panic is going to be created, of such magnitude, that it will threaten our very existence. This same government will then step in to offer a solution, they will have "an antidote" (VACCINE), BUT, only those who will accept the Medical ID (national id/CHIP) will be (supposedly) treated,