Site being updated - check every 24 hours, NOTE updates are not always at top of the page but in between posts where they are relative. You will need to scroll down and find more info as they expound relevant to docs already posted.
PLEASE NOTE:

AGWVA email blasts are being delayed for a day or longer, or returned as Spam, you need to stay in touch by revisiting this site and make sure you clear your Cache, and wait for page to load properly.

<><><><>

Interesting but never-before-seen moves at the supposed "inauguration of the most popular President of all time." Yes, Joe got the most votes of any candidate ever before! Right! And now he's afraid of the National Guard troops posted in the barbed-wired/fenced-in police state called the US Capitol, Washington, DC

DARKEST WINTER

Some say this will be combined with all TV, radio, and internet programs to be pre-empted Wednesday morning from 8 am onward for a few days. Some say that the President will communicate directly with the American public through these channels and have the right to do since the US is already under martial law. Time will tell!

AH YES - The world HATES US because they envy us and our FREEDOMS. And I have swamp land to sell you dirt cheap.

<><><>

A heroic Journey - one woman's fight with Covid-19, a step-by-step, blow-by-blow, how she self treated with Natural Vitamins and how she finally won without being vaccinated

COVID-Q_ure : What you can do to protect yourself BEFORE or even After you have symptoms or declared you have Covid-19 by THE EXPERTS

WARNING: TURN OFF YOUR TV "NEWS" - THEY ARE "ALL" MISLEADING THE PUBLIC

FROM PETER KAWAJA

To all those Veterans who wanted to understand the video clips about Biden
I posted days ago - you now have some answers

SURPRISE ??? SURPRISE ???
Blue State Economies Will Soon Crumble – But Will They Take Red States With Them?
Over the past six to eight months, the U.S. has seen perhaps one of the largest migrations of people based on economic and ideological concerns in almost a century. Not since the Great Depression has there been so many Americans relocating in search of a better life. Today, however, those who relocate seem to be largely conservatives and moderates. There is a very good, multifaceted, reason for this.
I think one of the best recent explanations for the conservative migration is visible in the near-180-degree turnaround by New York Governor Andrew Cuomo on his draconian lockdown mandates. All of a sudden, Cuomo has announced that New York simply cannot stay closed any longer and that businesses need to reopen quickly.
What could have possibly forced the thick-skulled Cuomo to finally see the light? I think it has a lot to do with the fact that New York has attempted to distribute millions of doses of the COVID-19 vaccine and they have only been able to give out 30% of them. This means that around 70% of people eligible to get the vaccine in New York are apparently refusing to take it (a smart move in my opinion considering the highly experimental and untested nature of the cocktail). Surprisingly, at least 30% of NY healthcare workers are also refusing to take the vaccine. Cuomo has resorted to threatening hospitals with fines if they do not distribute the vaccines fast enough.
I think in his latest statement Cuomo is trying to send a message that New Yorkers need to take the vaccine so that a reopening can begin. In other words, "take the vaccine or the economy will collapse".
I don't believe Cuomo is mending his totalitarian ways, but at least for now, I think he is realizing what most of us in the alternative economic field have been saying for the past year: Blue state economies are dying because they are oppressive and this stifles trade and business. CONTINUED HERE
VETERAN RESOURCES
Mr. Kawaja, First off, I want to say THANK YOU!! Your list of ways vets can find support means so much to me and my family. My dad served and although he's not one for the spotlight, I know it means a lot to him to know that others in this great nation value our armed forces. A project near and dear to my heart has been putting together a list of resources for veterans' financial security.
I'm grateful for the sacrifices my parents made and all of their hard work, and I'd like to help others finish strong.
I'd love to hear more about what you're working on next, All the best, Jim
A healthy and fulfilling life for older Veterans
https://www.birchgold.com/retirement-and-financial-security-for-veterans
For more veteran resources, see the archived pages - AGWVA is in process or streamlining the website to make it easier to see more documentation, hang ten.
--------------------------------------------
BIDEN: I'M NOT SHOWING UP
COINSOG FINAL APPEAL NOTICE TO TRUMP
IT IS NOW UP TO TRUMP TO ACT
Under Section 3 of the 14th Amendment of the United States Constitution:
"No person shall be a Senator or Representative in Congress, or elector of President and Vice President, or hold any office, civil or military, under the United States, or under any State, who, having previously taken an oath, as a member of Congress, or as an officer of the United States, or as a member of any State legislature, or as an executive or judicial officer of any State, to support the Constitution of the United States, shall have engaged in insurrection or rebellion against the same, or given aid or comfort to the enemies thereof."
All members of Congress and the government who supported this insurrection and have been working with the American-British Pilgrims and the British Imperial Empire (including SES, Crown Agents) are NO LONGER members of Congress or government office holders as they have forfeited their rights and offices by committing acts of TREASON.
In the Congress, their TREASON was to vote to accept Electors from states where brazen voting fraud took place, despite that fraud being brought to their official attention on January 6. They gave "aid and comfort" to the people who stole a federal election.
As for the rest of the swamp, the American Intelligence Media has spent over 4 years detailing the crimes of the swamp rats, in detail and with evidence. These crimes will be exposed over the next few months, if what we are seeing in D.C. is a military zone being set up for arrests and trials.
Do you think the traitors will be executed in the Green Zone, or do they have a special zone designated for this and where will the corpses of the traitors go?
Voices of the American Intelligence Media
Imposing Certain Sanctions in the Event of Foreign Interference in a United States Election
I, DONALD J. TRUMP, President of the United States of America, find that the ability of persons located, in whole or in substantial part, outside the United States to interfere in or undermine public confidence in United States elections, including through the unauthorized accessing of election and campaign...... Executive Order 13848 of September 12, 2018
Joe Biden Holds Inaugural Celebration on YouTube — Only 24K Tune in to His Channel — Trump Holds YouTube Speech at Alamo and Got 804,000 Viewers WHILE HE SPOKE #ST0LEN
Joe Biden held an Inaugural Celebration on Saturday night.
Several Hollywood stars participated in the event.
And… Only 24,000 tuned in to the "celebration" on his YouTube page.
— Three hours after the event played live on his page.
But we're supposed to believe this guy won 81 million votes?
Their lies are outrageous!
Trump not only defeated the establishment in 2016. He got 74 million votes for a second term. Then, he defiantly refused to recognize that his defeat was fairly accomplished. Trump is hated because he will not play the role the left has assigned to him in its historic morality play, in which the left is always the triumphant star.
The Washington Post is now demanding that the trial, conviction and expulsion of Trump from the presidency begin before Joe Biden takes the oath in five days.
This is a familiar mindset: the spirit of the lynch mob. No time for evidence. No need for a trial where both sides can be heard. No need for reflection. Just declare him guilty and hang him.
OK - now back to the SCAMDEMIC:
COVID-Q_ure : What you can do to protect yourself BEFORE or even after you have symptoms or declared you have Covid-19 by THE EXPERTS
Suspicions grow that nanoparticles in Pfizer's COVID-19 vaccine trigger rare allergic reactions
People should wear a mask even after being vaccinated, according to the CDC and health experts.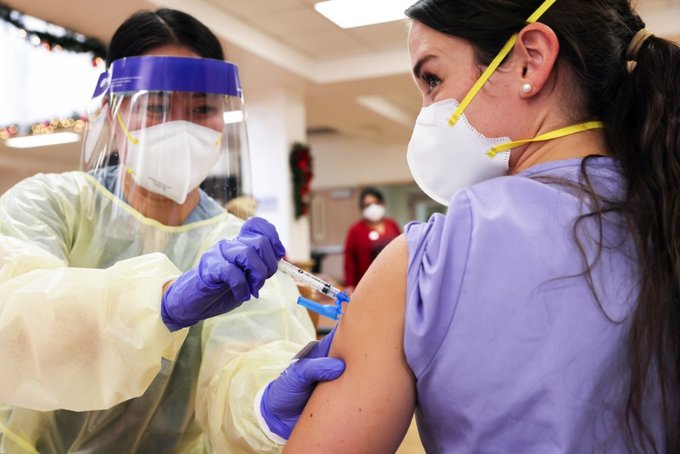 Even after receiving a COVID-19 vaccination, people should continue to wear a mask, stay six feet from others, avoid crowds and wash their hands, according to the US Centers for Disease Control and Prevention and other health experts.
Although the Pfizer and Moderna vaccines are about 95% effective at preventing people from getting COVID-19

symptoms

, "there's not enough evidence yet on whether the vaccines also prevent asymptomatic infection and transmission," according to the The Wall Street Journal.
NOTE the word "symptoms" - aka a headache, sore throat, some fever? NOTICE they ADDED the word symptoms BECAUSE they cannot admit the vaccines actually PREVENTS infection and transmission. THERE YOU HAVE IT!
and now further bullshit, err sorry, more misinformation/cover-up:
It's too early to know if vaccines will keep people from spreading the virus to others, experts say
"[T]he Pfizer and Moderna trials tracked only how many vaccinated people became sick with Covid-19. That leaves open the possibility that some vaccinated people get infected without developing symptoms, and could then silently transmit the virus — especially if they come in close contact with others or stop wearing masks.
More and more people are WAKING UP to the fraudulent criminal SCAMDEMIC and that the Vaccines are NOT SAFE "PERIOD".
Written by Adam Dick Sunday January 10, 2021<![if !vml]>
<![endif]>


Things seem to be working backwards at The Commons on St. Anthony nursing home in Auburn, New York. Vaccinating people is supposed to reduce or end coronavirus deaths. Right? But, at The Commons, such deaths are reported to have occurred only after residents began receiving coronavirus vaccinations.

James T. Mulder wrote Saturday at syracuse.com that until December 29 there had been no coronavirus deaths at The Commons. December 29, when deaths of residents with coronavirus began occurring at The Commons, is also, Mulder's article discloses, seven days days after the nursing home began giving coronavirus vaccinations to residents, with 80 percent of residents so far having been vaccinated.

Over a period of less than two weeks since December 29, Mulder relates that 24 coronavirus-infected residents at the 300-bed nursing home have died.
Eldercide In The United States
Long-term care facilities are linked to nearly 40 percent of all coronavirus deaths in the United States. It didn't have to be this way.
Contrary to what many believe, the tens of thousands of deaths of those living in long-term care (LTC) were no inevitable biological catastrophe. Their grieving, angry family members know better: they know the conditions that prematurely deprived their loved ones of the remainder of their lives. By December, just as vaccine distribution started, nearly 110,000 residents and staffers had died. The extra deaths among our elders constitute an appalling percentage of the 1.4 million Americans who were living in nursing homes before the pandemic.
AMANDA VOLLMER IS BACK AND CANT BELIEVE PEOPLE ARE STILL LISTENING TO THE COVID-19 LIE (MUST WATCH)
Oathkeepers Issue Warning
FOR PRESIDENT TRUMP:
President Trump, though you have waited far too long, it's still not too late to act decisively as Commander-in-Chief. Honor your oath. Have courage. Do what we recommended you do (use the Insurrection Act and conduct a mass data declassification and public data dump to expose the compromised/corrupt traitors, and bring them to justice).
BUCKLE UP
TRUMP HAS THE TOOLS
IF HE DOES NOT USE THEM
IN THE NEXT FEW DAYS
IT IS OVER
FOR ALL OF US
The following articles by Makia Freeman represent in my opinion, THE most extensive research with sources cited on "COVID 1984 NWO AGENDA". You should visit the FREEDOM ARTICLES website for the "originals" - these link pages are verbatim backups minus the frills - in event their website goes down. HAPPY READING !!
COINSOG - Media Release - 14 JAN.2021 > Contact info: PIO@COINSOG.GROUP


Must See Video below: Police, Military, First Responders, Nurses, and ALL Civilians - pay attention especially from 32 minutes into the video, YOUR LIFE IS AT STAKE
Some doctors are asserting that the vaccines are absolutely "safe" and "effective." Their statements are not based on any science, any facts, or evidence. They are simply assertions without any basis.
It is absolutely not possible for anyone on this Earth, on the basis of actual studies (facts and evidence) to claim that the vaccine(s) (various ones exist) is(are) "safe" and "effective."
Many know that the Nuremberg Code and Geneva Convention require that subjects of medical experiments be given "informed consent" and that patients be given "informed consent" is also part of the most fundamental law governing health care in the United States.
Re: Moderna COVID vaccine:
Moderna modernatx.com states: "The Moderna COVID-19 Vaccine has not been approved or licensed by the US Food and Drug Administration (FDA), but has been authorized for emergency use by FDA, under an Emergency Use Authorization (EUA), to prevent Coronavirus Disease 2019 (COVID-19) for use in individuals 18 years of age and older. There is no FDA-approved vaccine to prevent COVID-19."
There are those who say that the Moderna vaccine is "safe." What does Moderna itself say:
http://modernatx.com/covid19vaccine-eua/eua-fact-sheet-providers.pdf

"The significant known and potential risks and benefits of the Moderna COVID-19 Vaccine, and the extent to which such risks and benefits are unknown."
Moderna says it is Unknown if the vaccine is safe, so how can anyone authoritatively say it is "safe?" This is an experimental vaccine.
The authorities also say that the vaccine is "effective." Everyone normally would understand "effective" to meant that it prevents sickness, protects the recipient of the vaccine from the illness. But Moderna itself says, "there is no FDA approved vaccine to prevent COVID 19"
It is being given supposedly "for the purpose of preventing COVID" but does it?
What does Moderna say (as above): "The significant known and potential risks and benefits of the Moderna COVID-19 Vaccine, and the extent to which such risks and benefits are unknown."
Unknown!
The statements that it is "safe" and "effective" are contrary to Moderna's own statements!
What about the BioNTech vaccine?
Not even BioNTech can say that their vaccine is "safe" and "effective" because it is an experimental vaccine with NO human testing of adequate duration! Their own publication on their vaccine states:
"No secondary pharmacodynamic, safety pharmacology or pharmacodynamic drug interaction studies with BNT162b2 have been conducted due to the nature of the RNA-based vaccine product, which is according to applicable guidelines."
Therefore, the BioNTech vaccine, for example, is an experimental substance that is being administered to people and the subjects being experimented on trust the assurances that it is "safe" and "effective" yet those assurances have no basis at all. Therefore, they do not have true informed consent and the experiment being conducted on vast numbers of individuals is unethical by medical science's own most fundamental standards.
It is a violation of the Geneva Convention and the Nuremberg Code to administer the BioNTech vaccine to subjects of the experiment without telling them it is an experimental substance and "No secondary pharmacodynamic, safety pharmacology or pharmacodynamic drug interaction studies with BNT162b2 have been conducted due to the nature of the RNA-based vaccine product..."
the 81 page document entitled, "Quality rolling review CHMP overview and list of questions COVID-19 mRNA Vaccine BioNTech BNT162b2, 5'capped mRNA encoding full length SARS-CoV-2 Spike protein Procedure No. EMEA/H/C/005735/RR/02
Applicant: BioNTech Manufacturing GmbH
provided at European Medicines Agency, Science Medicines Health, Amsterdam, November 30, 2020, EMA/CHMP/641856/2020 Committee for Medicinal Products for Human use (CHMP)
Additionally, we should note that "Safety studies" that would have any meaning, would require observation of vaccine recipients over at least a couple of years (and perhaps much more than that especially when a new never-before-utilized mRNA technology is being used with the vaccine design).
If any "testing" of a vaccine does not observe the recipient(s) for such a period of time (even a generation or more down the line), then there is no real "safety testing." It is only assumed or said to be "tested" when it has not been "tested."
Physicians thought that Thalidomide, for example, was quite safe, but only when children were born with congential malformations/"defects" did they realize that the drug was not at all safe!
Have we waited to see what effects these vaccines have on vaccine experimental subjects, their fertility, their offspring? Have we seen how the vaccine recipients respond when they are exposed to the "wild" SARS Co-V 2 virus?
No, we have not.
That early medical treatment has been withheld from the people of many nations of the world, that many are told to "come back when you're sicker" and then admitted to the hospitals when they already have severe damage (often irreversible at that point) is a crime against humanity.
PAY ATTENTION VETERANS & ACTIVE DUTY
A police sergeant in Morgan County, Indiana admitted in May of 2014 that his department had obtained an armored vehicle in part because of returning military veterans were deemed domestic terror threats by Homeland Security in 2009.
In 2014, a sheriff's deputy admitted on video that these weapons of war were needed to fend off "constitutionalists" with firearms.
When the state ramps up this campaign of censorship, regardless of its intentions of 'preventing threats,' it will be used to silence everyone who the establishment disagrees with — history proves this to be the case, every single time.
As German journalist and poet, Christian Johann Heinrich Heine, famously said:
Where they have burned books,

they will end in burning human beings.
This was foretold by Peter Kawaja in 1994 audio < 4-min >
1996 - Kansas Presentation excerpt - intro by Joyce Riley < 23-min >
Thanks of an ungrateful nation - Shalom portion interview. Gas mask penetration..... more info, listen to the end.
DEDICATED TO THE MEMORY OF THE MEN & WOMEN WHO SERVED PROUDLY
My Deceased Wife, My Rapid Deployment & Extraction Team - Houston Tour 89

The Innocent Guinea Pigs of The Blood Sacrifice at Operation Desert Storm

THE FORGOTTEN SHAMEFUL GULF WAR 1 - AMERICA KILLS ITS OWN

Below document was hidden on the CDC website in 2005.


Accidentally

found by searching the CDC site for the name: Peter Kawaja

Search Results You searched for: Peter Kawaja
OCSO - OPHR - CDC's Research Agenda - Starter List Comments
Research is needed to define what structure provides the greatest positive impact on population health. 04/15/2005 08:00 PU 347 C
INOCULATIONS: THE TRUE WEAPON OF MASS DESTRUCTION
AN EPIDEMIC OF GENOCIDE
The most heinous, bone chilling and evil piece of this puzzle has been revealed to the world by an American hero named Peter Kawaja, who worked in the late 1980's as a security and counter terrorism expert for the United States government (a service for which he has been rewarded with the murder of his wife, torching of his home, issuance of a War Powers Act search warrant to (they thought) confiscate all his evidence, illegal IRS liens on all subsequent income, and multiple attempts on his own life, all funded by your tax dollars). Please go to www.agwva.org/mission.htm and read some of the 34 counts that Mr. Kawaja brought against the domestic traitors to America (in both their individual and governmental capacities) in a federal lawsuit in which the perpetrators, again, used your tax dollars to hire themselves attorneys from the Department of "Justice" whose defense of their war criminal clients was that they are "immune, under color of law[10]".
These charges also surround covert counter-terrorism activities in a lawsuit brought by Peter Kawaja and the International Security Group, Inc., (1994) as Plaintiffs v. various [named] Agents (agencies/US attorneys etc) of the U.S. Government and 100 John Does (Bush Administration). The charges laid in Kawaja's suit have never been refuted by the accused. Instead, the United States Government made a determination to appoint the US Attorney's Office to represent the Defendants, thereby admitting to the criminalities (and guilt). This decision to appoint "government" attorneys and the U.S. Attorney's Office to represent the Defendants was made after an initial response to the Plaintiff (Kawaja) filing Suit, and places these individuals, sworn to uphold the Constitution of the United States and defend against terrorists (whether foreign or domestic) into the defendant's box as well.
If you do nothing, before long highly trained Special Operations commandos with state of the art weaponry will be used in the U.S. to "execute quarantine and certain health laws", including the Model State Health Emergency Powers Act passed in all states where, following another domestically perpetrated biological scare (such as the anthrax mailings to the Congress), a solution in the form of a vaccine will be offered only to those who will accept the national ID chip being injected into them. All others will be considered a danger and threat to society, hunted down, and imprisoned in concentration camps already built or be killed. Americans will welcome this solution, and turn in their neighbors or friends in order to survive themselves. This was all predicted by Peter Kawaja in 1994 when he wrote "The Saddest Chapter of America's History".
__________
Explain to the public why the CDC did not educate the public on the HCV epidemic after learning of it's wide spread potential and the largest population infected were the blood transfused.
Also explain to the public why the CDC did not establish an early warning system after the HIV/AIDS epidemic was funded by congress so that this would never happen again or if it happened again, through the early warning system we could educate the public and slow the spread and/or identify the population potentially infected?
Governments failure has cost lives and we still have no "honest" public education on this issue. Instead we do have a CDC integrated plan that would conveniently integrate HCV into HIV/AIDS programs therefore again, adding salt to the wound; misleading the public as to their real risk factors (either a drug abuser or MSM) and turn away any potential questioning of the governments role in the spread of this epidemic.
| | | | | | |
| --- | --- | --- | --- | --- | --- |
| 04/20/2005 | 09:53 | PU | 473 | D | Internet trials to be soon held against those guilty of crimes against humanity by inoculation with disease on www.againstthegrain.info INTERNET RADIO BROADCASTS 11P-1AM MON-FRI EST |
| | | | | | |
| --- | --- | --- | --- | --- | --- |
| 04/19/2005 | 11:08 | PU | 429 | D | Regardless of what management says about developing a research agenda, many laboratory researchers believe that our days are numbered here at CDC. Laboratorians are being told to stop work on innovative basic research projects. We are being told that our role is to only support epi studies. Research will be done by the NIH. In light of the dismal state of HIV vaccines, it is obvious that we need to encourage thinking outside the box to solve this problem as well as the problem of emerging infectious diseases. When you stop allowing the labs to do cutting edge research, you will loose the abiltity to respond to new threats. We must keep our labs up to date with the newest technologies and encourage basic research ideas. I think it is great to develop specific priorites and goals for research but we must remain open to new ideas as they come along. This developing agenda must continue to evolve over time. It is hard to believe that management is serious about supporting "research agendas" in light of the day to day decisions that are being made. |
| | | | | | |
| --- | --- | --- | --- | --- | --- |
| 04/15/2005 | 13:16 | PU | 357 | D | As before (and seems always) these strategies are exclusively "REactive" and seem to address only the known/notifiable/occurring diseases in areas where human population is already exposed and "suffering" . This is good, necessary, extremely important, but as before leaves us totally unprepared for any upcoming events and changes. What we need is a PROactive strategy that would tell us what to expect and where before humans are actually start falling sick. New lands are being developed; urban sprawl puts people ever closer to the nature (I love leaving in suburbs); large areas are being deforested or reforested; vector and reservoir species compositions are changing ... I could go on and on. If we new 20 years ago what we know today about natural cycle and foci of Lyme disease, would it have such an impact on the nation as it have had? Or would we be able to prepare for the effects of reforestation and = prevent the "pandemic" at least partially? Well, currently Amblyomma americanum is on the move and spreading allover and very quickly, exceeding in abundance the existing ticks in many areas. Do we know what these ticks carry, what they can transmit, how they affect the existing vertebrate, vector and pathogen communities? Are we prepared for a "pandemic" of STARI (or like) allover the Country? Exotic ticks (and files I am sure) are being imported into the Country, and some of those are getting a firm footing here. Are we/public/doctors prepared to prevent, recognize, and treat hartwater, African tick fever, CCHF, or is it going to be another thunder from a seemingly blue sky? And these are just the most apparent threats. In short, we need a strategy and a system (something like a network of perpetual monitoring stations) to monitor the natural foci regardless of the presence or absence of an already suffering human |
CDC funded study shows the vaccinated shed 6.3 times more flu virus, just by breathing
Gulf War Redux:
The DOD through their reps at Edgewood Army Arsenal and Ft Detrick et al, took blood and tissue samples from Gulf War vets that had gone through the CCEP DOD and VA registry exams, sent those tissue and blood samples to the A.F.I.P., then to Ft Detrick, and have turned those samples into genetically altered products to be used as the basis for making future vaccinations for soldiers. None of this has been taken before the public, and has NOT BEEN APPROVED BY FDA FOR USE IN HUMANS....AND YET, IT IS BEING DONE....WHY IS THAT ?
Please also note that at the end of the article they mention making a genetically altered version of the Bot-Tox vacc, and that since it costs less, it must be better...note that NO MENTION is made of ANY FDA involvement....and again, where did they get the human blood samples with antibody responses to Bot-Tox vaccinations from in the first place ? The original Bot-Tox vaccs were made from HORSES blood NOT HUMAN !!!
< snip - go back and remember above - ABE & FIRST FLIGHT from Gulf War-1 !!!!! As most might feel, this is...well, lets be flat about this....since DOD has admitted that they want to use vaccs for soldiers deployments at present, as well as using vaccs in the civilian arena, and we have seen huge amounts of reactivity against the vaccs, one must ask....were these used, were the reactions due to the genetic alterations that were done, and does FDA even come into this at all as oversight ? As far as can be seen, DOD and FDA have gone out of their way(s) to keep this out of the public view, and lie as soon as they are confronted by it. The smallpox vaccine that was originally used...now called DryVaxx, which was made with calf lymph tissues, was called by DOD itself as unsafe, and contaminated, to the point that it needed to be destroyed and then replaced (ref: USAMMDA Annual reports 1988-1998...a full decade of saying this). Well, here is where another problem arises...in the same articles of the USAMMDA, they state that they want to, and did make, a "new cell culture master seed line" for making the (newest) smallpox vaccine.
HOW TRUMP GOT TRUMPED
OR – did he?
By Peter Kawaja and "friends" - special thanks to; Sun Tsu
KEEP YOUR FRIENDS CLOSE & YOUR ENEMIES CLOSER
A Tale with Two Endings – Take the Blue Pill or the Red Pill
The Original Thirteenth Article of Amendment
To The Constitution For The United States
"If any citizen of the United States shall accept, claim, receive, or retain any title of nobility or honour, or shall without the consent of Congress, accept and retain any present, pension, office, or emolument of any kind whatever, from any emperor, king, prince, or foreign power, such person shall cease to be a citizen of the United States, and shall be incapable of holding any office of trust or profit under them, or either of them."
WHO IS THE TROJAN HORSE?
Wood also appears to be making accusations against Pence 'using' young boys.
That is not the sort of thing an attorney specialising in defamation litigation normally does.
Let's hope he can prove it.
And pictures of Mike Pence in feminine attire as a younger man, being very 'intimate'
with young boys surfaced today – and Lin Wood posted them, along with this tweet.
"And what was up with that completely different phrasing leading in to the Electoral College count?"
Going back multiple administrations, there's nothing like Pence's preface in history.
Notice the difference for yourself:
What Pence did was completely wrong under the Constitution because only the legislatures have the power to:
1) change election laws, and
2) choose Electors.
I literally wrote the book on this (two, in fact).
So, Pence, who's always banging on about how religious he is, broke two of the Ten Commandments in one paragraph.
He bore false witness and helped America's enemies steal an election for the CCP's guy – lying and stealing in the process.
Lin Wood's most interesting post came on Parler (he and the President have both been temporarily suspended from Twitter).
It came in just a few hours ago:
"Many traitors will be arrested & jailed over the next several days.
President Donald J. Trump will serve 4 more years!!!"
IS THAT SECRETARY OF STATE MIKE POMPEO
IN ITALY MAKING ARRESTS?
If that picture is real, then this is extraordinary on a number of levels.
But only 10 people know what President Trump is doing
And I'm not one of them.
I find it very interesting that one of the few men he still trusts – Secretary of State, Mike Pompeo – is so personally involved in the situation of the man we reported about just two days, again, making the assumption the photo leaked to us has basis in fact.

ACTUALLY, NO MEDIA COVERED IT, SO WE SHOULD. IF REAL,
DO YOU RECOGNISE THE ARRESTEE IN THE GOLD TIE?
YOU WILL IN A MOMENT
That man is the spitting image of William Lynn III in Rome, Italy, former head of Leonardo Defence's U.S. Division, now admitted as the bridge to upload the vote switching from President Trump to Joe Biden.
Do you still think this is over, folks?
As example of what I'm saying, let's start with the 'Storming of the Capitol' narrative on National Public Radio – before it happened
https://www.reddit.com/r/AskThe_Donald/comments/kt2ypg/npr_news_clairvoyance_they_reported_capitol/
Since it has already been removed from Reddit and may be removed elsewhere by publish time, here are the words:
As GFC TV reported, "NPR – National Public Radio – have psychic powers to predict what's going to happen in terms of riots.
"So let's ask NPR why they posted this article, Trump supporters stormed Capitol at 9:33 a.m. before Trump even began to speak at rally [hours later].
And why were Democrats advised two days earlier to expect 'an Antifa attack'?
Yes. That also happened, as Representative Mo Brooks announced, "Multiple Congressmen and women received an intelligence briefing that Antifa was planning to dress up like Trump supporters and attack the Capitol building."
The world has seen the violent storming of one entrance by what we now know were Antifa infiltrators – let in by Capitol police – and we have their photos – now identified.
Antifa and BLM led the breach as Dems leaked to their own caucus—and why there was no meaningful security that day? Because it was planned that way to blame Trump and his supporters
In short, Antifa and BLM were invited – by the Capitol Police – as this was nothing but a pre-planned (and pre-announced) photo op to set a false narrative against the President of the United States and his non-violent supporters.
Filmaker and author, Dinesh DiSousa posted footage of Capitol guards inviting peaceful protesters (now being described as a violent 'mob') into the building for the set up – and then 'mixing' of the two groups.
Shocking New Video: Capitol Police Appear To Just Let Protesters Into Building https://rumble.com/embed/v9xrh1/?pub=4
There are now rumours swirling around that the Dem-Globalists and Deep State cabal have deployed dirty bombs on American soil to cause chaos–and the 7,000 troops stationed on the streets of DC this morning with huge back-up generators appear to corroborate that the military chapter of this story has now begun.
What that means in full, I do not know.
But the Vatican's power was cut last night, as was Pakistan's–two alleged co-conspirators in the plot, but at present all we can confirm is that they are in the dark.
So, I can't guarantee we will win today – or even on January 20th if they explode a dirty bomb to start another war – but yes, I can make you one promise.
I guarantee you that my fellow Americans – who are better armed than any army on earth, including that of the U.S. – will not go quietly into the night.
Then, I believe that they'll save the rest of us – one ally at a time – because that is who they are – and that, my friends, is what they do.
I can't speak for anyone else, but I for one am not giving up.
Howell Woltz
Constitutional Attorney Says Pence, Congress, Violated Constitution, Trump Can Use EAS To Circumvent Censorship
"There is an insurrection going on inside of the entire government, funded, supported and fomented by foreign actors," said Attorney Ivan Raiklin.
Speaking exclusively with National File on January 7, Constitutional Attorney Ivan Raiklin explained that President Donald Trump's "only option" to defend the Constitution is to "activate the Emergency Alert System." This comes as Big Tech companies have banned President Trump and many of his supporters from using their platforms just days after Congress certified the fraudulent Electoral College results on January 6.
He also pointed out multiple Constitutional violations by states, Congress, and Vice President Mike Pence.
"Everyone consummated the violations to the Constitution across the board," said Raiklin.
According to Raiklin's legal analysis, the states violated the Constitution on December 14 when they sent their slates of electors to Congress.
You had the fraud going on at the precinct level. The states violated Article 1, Section 4, which is time, manner and place of running federal elections. They went outside those bounds.

Then Article 2, Section 1, Clause 2, the states violated that component of the Constitution, which is the Electors Clause, because they didn't select their electors in the manner that the state legislatures mandated under their election laws.

Then you have Article 4, Section 2, which is the Supremacy Clause of Constitution, meaning that the Constitution and federal laws supercede any state laws in contravention to that federal law, by running their elections in the manner that they did and it goes alongside of Article 1, Section 4.

Also, they violated the 14th amendment, the individual folks that legally and legitimately voted, because their votes were diluted by the fraud. It could've only just been one dead person, at the end of the day it occurred and they need to have pristine elections, and that's not what happened.
He also said that Vice President Pence violated the Constitution on December 23, by not sending a letter to those states, demanding that they correct the fraud. As National File reported, US Code actually prohibited Pence from accepting electoral votes from fraudulently certified states. Additionally, Raiklin said that Pence violated the Constitution a second time on January 6 by "not setting up an environment to correct the fraudulently certified electoral slates from these six contested states."
"The United States Congress yesterday, facilitated the violation of all those parts of Constitution and in addition to that, they violated the 5th amendment, the Due Process clause, because the 5th amendment applies to the federal government. I'd argue that they also violated the 12th amendment, the manor that they voted in the House on the objections," said Raiklin.
According to Raiklin, these Constitutional violations, along with the extensive censorship of the President by Big Tech and Big Media, who are still protected by Section 230 "courtesy of the Senate Republicans," has left President Trump with one last option – activating the Emergency Alert System.
"His only option in order to be able to defend the Constitution is to activate the Emergency Alert System, to be able to convey his message to the American people across television, radio, internet, and phones, since he's being banned on everything. In that message he needs to lay out the case to America that we are being attacked by foreign adversaries, particularly China, in terms of cyber. There's also a Russian and Iranian component. I'm saying this with a high degree of confidence, based on all the reporting that I've seen, and it's all unclassified," said Raiklin.
"He needs to lay out the case of a foreign attack based on national security grounds, which is what you'd usually use the EAS system for, and articulate that under the framework of Executive Order 13848."
Raiklin recommended that the President take his time and "articulate everything," and to "use the entire executive department, declassify things that you need to declassify, to let folks know."
"Because there is an insurrection going on inside of the entire government, funded, supported and fomented by foreign actors, he needs to lay out that case as well, of any evidence of that," said Raiklin. "Why would Nancy Pelosi call for an impeachment of the President when he specifically said there was going to be a peaceful transition, with less than two weeks remaining, saying they will impeach him unless the cabinet throws him out of office using the 25th amendment?"
"There must be something that will implicate her, that is already in the hands of the President, and she needs him out of office to not be able to activate the Emergency Alert System, to communicate to America what she is also potentially complicit in. There is something there," said Raiklin. "That something may be somehow associated with Eric Swalwell being on the intel committee, and his relationships that have been exposed recently of potential ties with China."
Raiklin noted that it would be strategically advantageous and possible for China to co-opt US politicians, such as California Representative Eric Swalwell, Georgia Governor Brian Kemp, New York Governor Andrew Cuomo, and California Governor Gavin Newsom, in order to "influence their decision making in a manner that is most favorable to Chinese interests."
"It is my assessment that there is a potential nexus there, from what I've seen, that's worth looking into further, in auditing these individuals on their ties to foreign connections, potentially, foreign intelligence services and foreign governments. Unfortunately we don't have a FBI that does that.
One of the reasons that they don't do that, I would suspect, is that the committee that has oversight over the FBI has an agent, potentially, of its own, that would apply pressure to those same agents that would be investigating them, ie: Swalwell on HPSCI, the House Permanent Select Committee on Intelligence."
Raiklin said that the President's main focus should be restoring election integrity in the United States, regardless of the politics. He recommended that President Trump use the EAS and "activate federal forces under the Insurrection Act, send them to the swing states that violated the Constitution, and tell the state governors that those federal forces will remain in place until the state legislatures actually vote on an electoral slate of their choosing."
Such a move would force states to conduct their elections in the manner that is consistent with Article 2, Section 1, Clause 2 of the Constitution, "which they have yet to do," according to Raiklin.
"In terms of the US Constitution, I've sworn an oath several times in my career, and that thing doesn't expire. It is my obligation to advise the President that he has also taken an oath to defend the Constitution. Right now, under these circumstances, that is the only mechanism that he has legally," said Raiklin. "It would be Martial Law in those states until the those legislatures actually voted and complied with the Constitution."
"It wouldn't be against the people. Let me frame it this way, it would be solely deployed to those state Capitols, like the actual Capitol building, to make sure that the legislators voted how they wanted to. It's not coercion."
If the states certified Biden as the winner after this, Raiklin said that he would be willing to "accept the results of the election as being Constitutionally valid," even though he would still have his doubts as to whether or not the underlying ballot numbers were legitimate. This would "require further litigation and audits of ballots and machines, which the President must seize and have the Military" conduct a forensic audit for "foreign ties" in order to address these doubts, according to Raiklin.
National File has learned that Raiklin banned Twitter from all of his devices, and is also in the process of deplatforming Apple, YouTube, Amazon, and Google in the coming hours. Additionally, Raiklin has demanded that Parler move off of Amazon Web Services by midnight on Sunday. Raiklin continues to allow Gab and Telegram to broadcast his content, and will return to Parler when they fully move off of AWS
As I write to you today, I have no doubt that this letter will find many of you crushed under the weight of despair or perhaps lost in a maze of confusion. It is my hope that by the time you finish reading this letter you will be able to confidently join millions of others who support the president and another four years.
Let me be clear: Trump will be president for another four years. Biden will not be president. Yes, I know those are shocking words in these crazy days.
I have been approached by many saying, "It's over…" and "Trump conceded the election…". Nothing of the sort has taken place. Go back and listen to the videos all the way through. At no point does Trump even mention Biden's name. At no point does he say he concedes. He does say that there will be a peaceful transition to a new administration and he does say that this is only the beginning. Those phrases are important to note. Indeed, we will have a new administration made up of a new vice president and cabinet as the current ones have all made their treason complete. I will touch on this in more detail shortly.
We do well to remember that for more than four years Donald Trump has been five steps ahead of everyone in every attempt to derail him, impeach him, or confound him. For example, he announced on election night in the early hours of the morning that he "didn't want a dump of ballots at 4AM." What happened in just a few short hours at almost exactly 4AM? A huge ballot dump took place which showed that he already knew that it was going to take place. That was a public word to the enemies of our country that he was on to them. Also, consider the recent incident at the capitol building in DC. Trump was late to his speaking engagement and then spoke on a number of rehashed things to the crowd of 500K+ but this created a problem. You see, if Trump had spoken on time and briefly, the MAGA crowd would have been at the capitol building with the Antifa faction and likely would have been drawn into the fray by accident and confusion due to the crowd size. With Trump speaking late and long, the MAGA crowd was PROTECTED and SEPARATED from the Antifa groups. It would be very clear that the disguised Antifa people were 95%+ of the people in the building. Again, Trump countered because he was steps ahead of them. This was clearly a staged event meant to blame Trump supporters and try to frame Trump so the 25th amendment could be used by Congress but it failed. Nevermind the numerous videos showing the police opening the gates for Antifa (they didn't fight their way in) and then leading them throughout the building.
I say all this as only two examples out of many that at no point has our president been in a fight of desperation.
Now you may ask, "Why hasn't Trump arrested anyone yet? Why did this have to go all the way to Congress?" Multiple reasons: first, Trump has been adamant in following the rule of law and the Constitution. He gives everyone, no matter how dirty, an opportunity to do the right thing (sometimes with warnings such as the phone call with the Georgia Secretary of State recently). He pushed cases through the courts, he presented evidence to the legislatures, and he even told the vice president to do the right thing. But with the betrayal by Pence and Congress, the treason is now complete and nobody can say that Trump did not allow the process to finish before acting. Second, in order to drain the swamp you have to know who are the swamp creatures. They can blend in very well with the crowds. But the false event in the capitol revealed the final traitors for who they were regardless of party affiliation. Trump flushed them out of hiding.
I need to take a moment to speak on Pence. With his treason completed, many of you may not know of his dealings and political posturing prior to the infamous day in the capitol. Pence was already wheeling and dealing way back during the 2016 election season with…wait for it….Paul Ryan. Remember Ryan? The RINO speaker of the house? Look at these emails that were recently revealed:
Pence was also involved with a scheme to oust Trump sometime during his first four years that was orchestrated by Rod Rosenstein and supported by the Clintons. The plan: get rid of Trump, become president and then appoint Rod Rosenstein as the new VP. Why would they want that? Because they felt Pence could be controlled. See these links for the 3 part series for more information:

More could be said but I don't want this letter to become more of a book than it already is. Suffice it to say that when Trump said at the DC rally that he hoped Pence would do the right thing, he already knew what he was going to do but was, yet again, giving the man space to choose to do the right thing.
Now, nobody has been more supportive of Trump than Lin Wood. This man's career has been fighting defamation lawsuits which means that he doesn't say things, no matter how outrageous they may seem, without them being true as he knows the consequences of slander. With this in mind, Lin Wood has become a fountain of information and leaks of hitherto unknown information revealing some of the depths of corruption and evil in our highest offices. This is the same man who recently said that arrests are coming over the next few days. He called Pence a traitor well before the counting of the elector votes on the 6th. But did you know that he also said that the president, following the capitol incident, left DC on a "Doomsday" aircraft (used for communications in the event of a nuclear war) with his family and was in Abilene, TX. This aircraft was confirmed by both flight trackers and eyes on the ground. In short, he is a trustworthy source of information. If you have a means to follow Lin Wood on Parler, I would highly recommend that you do so to stay abreast of things taking place. You can also listen to this podcast:
Podcast
So, what comes next? I don't have the particulars but I can give you milestones to watch for as the coming days unfold:
Expect the emergency broadcast system to be activated. The FCC just recently released a memorandum speaking to the requirements under Federal law to send messages from the president to the public. See this link
Expect confusion. We are in a battle for our republic against elites that are attempting the very coup that they are accusing Trump of doing. In battle, there will be disinformation but know that plans are being fulfilled.
Expect high profile arrests to take place over the next 12 days and at any time. You may wake one morning to find someone in high office is no longer there.
Expect this to be a bumpy ride to the very end. This is not a television show where things are resolved in 45 minutes.
Expect more bombshell evidence to be released between now and Jan. 20th.
Expect some sort of internet blackout or outage: Facebook, Twitter, Instagram, and Gmail are likely going to be affected. If you don't have alternate forms of communication established now, it would be a good idea to start forming them even if it's just checking on your nextdoor neighbors.
Expect Trump to be inaugurated on Jan 20th!
Expect the executive order from 2018 and/or the Insurrection Act to be enacted. This DOES NOT mean martial law. Remember that we have been under a state of emergency since 2018 which gives the president many powers to act.
These things may happen out of the order listed and some may happen multiple times. As I have been watching closely, many things have been and are in play as we speak. Remember that Trump has not and will not give up. He actually takes his oath of office to defend the Constitution against enemies foreign and domestic very seriously. This is why they are so panicked in DC: they know that Trump will fight while Congress just rolls over.
I've mentioned this before but it bears repeating. None of us would have believed what we all now know except that Trump and his team have painstakingly taken the time to show the public. Want to show what Congress thinks of you? Highlight that the stimulus bill only sent $600 to each American but billions to other countries (payoffs, money laundering). Want to show the extent of collusion with the CCP at all levels of government? Bring multiple lawsuits against the election fraud from the local courts all the way to the Supreme Court which will show just how brazenly treasonous the judges are. Want the public to see how rigged the election system has been for many years? Present the evidence openly as we have seen. Even this week we have sworn testimony out of Italy that the Leonardo defense contractor used satellites to change the votes from our election in the USA from Italy. These Dominion voting machines were actively sending data to Germany, Serbia, China, Iran, and now Rome. This corruption is MUCH bigger than any of us expected but none of us would have believed it until now. This is why things seem to have taken so long.
Now, the American public is awake and ready to take back their long forgotten responsibilities to hold the elected officials accountable. I have heard from many of you how upset you are with the obvious and willful disregard for the truth and for justice.
As the days unfold, let's maintain communications among ourselves and try to help our neighbor to understand what is happening. Turn off the television as they have demonstrated they are clearly only falsifying the media to maintain control over your thinking. Do not despair but pray for our country, for Trump and his supporters, and for a national repentance to be stirred nationwide.
The next 12 days will be something to tell the grandchildren! It's 1776 all over again!
ITALYGATE
video testimony of Italian Judge ref
LEONARDO'S role in switching votes from President Trump to Joe Biden!!!!

COVID-21: the planned mutation of the virus to drag mankind toward the Great Reset of the NWO

https://www.inclusivecapitalism.com/
Covid-21 will launch the second phase of the terrorist operation
There's too much of a rush to proceed with the application of the plan and to get to 2021 to finally execute the second part of the COVID-19 terrorist operation.
The first part of the plan was conceived to restrict individual liberties and lay the ground for the biggest economic crisis in world history.
In the New World Order, there will be no room for individual behaviors that are not allowed by the system.
Everyone will have to comply with the system's instructions and human freewill will be completely annihilated through new technologies such as the microchip brain implant, recommended by Klaus Schwab, chairman of Davos, one of the most influential globalist circles.
In this plan, 2021 would be the next phase, namely the advancement towards the definitive realization of the world government wished by Freemasonry and globalism.
If someone still believes that these are "conspiracy theories" they should look at the official sources.
The President of Italy, Mattarella, has clearly spoken of the "pandemic" as a way to get to the world government.
There's no theory. These are facts and they are happening now, but people keep refusing to see them or they are no longer able to recognize the truth.
In this regard, the mutation announced by the British government perfectly matches with what had been revealed by a Canadian whistleblower, mentioned in a previous article, and by a French government source who leaked the COVID-19 2021 schedule.
According to the whistleblowers of several world governments, the virus mutation was planned in advance by the system.
A new version of the virus, "COVID-21", was needed because the old one had fulfilled its purpose.
This new virus has the same characteristics announced by the Canadian and French whistleblower.
It has higher transmissibility and is potentially more lethal.
It doesn't matter whether "COVID-21" has the characteristics claimed by the system.
What matters is the perception of the public opinion about it, and it is up to the media to convey the false message of the "lethal virus".
The "pandemic" is mainly a media phenomenon and it will also be the second part of the terrorist operation.
Covid-21 will be the way to trigger a global economic collapse
Therefore "COVID-21" is following the elites' schedule.
The governments will use its alleged dangerousness as a pretext to enforce stricter lockdowns.
The media will then have the mission to inflate the danger by launching a massive terrorist campaign even more hysterical, if possible, than the one made with COVID-19.
Lockdowns will fulfill a precise goal. To trigger an unprecedented economic crisis so devastating that it will lead to a global famine scenario.
The UN, which is the organization chosen by the elite as the basis for the future world government, has already mentioned the possibility that famines will plague mankind in 2021.
Basically, globalism wants to disrupt the supply food chain to create an artificial shortage of food.
At that point, bread riots will follow.
The masses exhausted by hunger will rebel because they will not have any other chance than facing the possibility of starving.
The elites then aim to dominate society with an iron fist through the deployment of the army and the following application of martial law to contain the riots.
Unemployment will skyrocket and the middle class will definitely disappear. In the New World Order society, the economy will be wholly dominated by a tiny elite and every economic sector will be incorporated by the big multinationals, especially Chinese, German, and Americans.
It is already happening now with Amazon which is progressively conquering the whole retail sector, and now it is also absorbing the distribution of movies through its online platform.
The second phase of the COVID-19 operation will create a two-class system, and work in the post-industrial society will become a marginal factor destined to disappear.
It's exactly what was planned in the 70s by the globalist circles of the club of Rome and the Trilateral Commission, founded and financed by one of the most influential families of the NWO, namely the Rockefellers.
Once work is gone, the elite will put the masses before a choice. Take part in the Great Reset that proposes private debt relief demanding in exchange the renouncing of every personal belonging.
The end of private property will be the condition to get into the new world dictatorship. Obviously, only the masses will own nothing. The top of the pyramid will be in the opposite situation.
It will basically own everything because governments will privatize even the essential resources still owned by the States. The national States as they were known will cease to exist. They will be entities devoid of power and ruled by private capitals.
Whoever accepts this condition will receive the "universal income", which will be a governmental pittance for those who accept the Great Reset.
The other condition is receiving the vaccine. Those who refuse it will be banned from every public place, including schools and theaters.
The politicians who serve globalism are clearly proposing this measure. The mayor of Bergamo, Giorgio Gori, has recently proposed a public ban for those who refuse vaccinations.
Unvaccinated people will be in the same conditions as the Jews during WW2, and they will seriously risk being deported to concentration camps.
Globalism is showing its real authoritarian nature, even more, criminal and repressive than Nazism.
It's not another "conspiracy", but it is already taking place in several places around the world.
According to the denouncement made by a brave Canadian politician, Randy Hillier, in Canada, the government is already building these facilities.
In New Zealand, the government has officially announced the construction of these camps in which people who refuse vaccinations will be deported to.
Therefore, the Great Reset is the great catalyzing event that globalism had been looking for many decades to reach the final goal of world dictatorship ruled by this elite inspired by esoteric and satanic ideas.
TBC....
Even Nursing Home Workers Who Saw Worst of Pandemic Are Refusing COVID Vaccine
It isn't surprising that some people are wary of the new COVID-19 vaccines, but what is significant is that the very people who have witnessed the devastation firsthand are the ones rejecting the inoculation in shockingly large numbers — and that could be telling.
Starting this week across the nation, front-line workers in nursing homes will get priority access to the coronavirus vaccine, but a majority of them in some places are flat out refusing to take it, the Wall Street Journal reported.
Lori Porter, chief executive of the National Association of Health Care Assistants, told the news outlet that as many as 72 percent of certified nursing assistants said they'd refused to take the vaccine.
"A lot of my CNAs, their responses have been, 'No one cares about old people and no one cares about us and we don't intend to be guinea pigs,'" Porter said.
Nevertheless, it seems to be a pervasive problem around the country. In the Buckeye State, "60% of Ohio nursing home staff refusing covid vaccine," Marty Schladen of the Ohio Capital Journal tweeted after Gov. Mike DeWine expressed concern that the majority refused, the Columbus Dispatch reported.
Nursing home staff in Maine have objected in similar percentages, and even workers in California are refusing to be inoculated in significant numbers despite nursing home death comprising 35 percent of the state's COVID-19 fatalities and the recently ballooning caseload, the LA Times reported.
Throughout the coronavirus pandemic, any skepticism about the virulence of the virus or wisdom of draconian shutdowns was met with the mantra 'follow the science' to stifle any serious debate.
All along the way, however, officials did anything but as they imposed useless mask mandates, allowed Black Lives Matter protests despite closing businesses and imposing social distancing on everyone else
But worst of all, officials undermined science by suggesting that vaccination distribution begin based on race rather than in the nursing home populations that were actually ravaged by the virus.
In short, governments and the medical community killed any credibility they had at the beginning of the pandemic with their repeated hypocrisy and mixed messages.
When the people on the front lines who have witnessed the impact of the virus and who are familiar with the science are still refusing the shot, maybe the rest of us should pay attention.

https://christiansfortruth.com/ukrainian-demonstrators-demand-jews-apologize-and-repent-for-communism-and-the-holodomor-genocide
The Jerusalem Post is reporting that after Israel's ambassador to Ukraine condemned the honoring of alleged Nazi "collaborators" in the former Soviet republic, dozens of people rallied outside the Israeli Embassy in Kyiv demanding that Jews apologize and repent for their role in orchestrating the 1930s genocide during which over 10 million Ukrainians were murdered:
Miami doctor dies within weeks of receiving Pfizer Covid-19 vaccine
The grieving wife of a leading Florida doctor has told DailyMail.com how her 'perfect' husband died from a mystery blood disorder - just days after getting the Pfizer Covid-19 vaccine. [ there is NO mystery blood disorder, it's Covid-1984 ]
The grieving wife of a leading Florida doctor has told DailyMail.com how her 'perfect' husband died from a mystery blood disorder - just days after getting the Pfizer Covid-19 vaccine.
In my mind his death was 100 percent linked to the vaccine. There is no other explanation,' she told DailyMail.com, fighting back tears.
'He was in very good health. He didn't smoke, he drank alcohol once in a while but only socially. He worked out, we had kayaks, he was a deep sea fisherman.
'They tested him for everything you can imagine afterwards, even cancer, and there was absolutely nothing else wrong with him.'
NOTE: This is only one of THOUSANDS of similar incidents being kept off MSM.
BREAKING NEWS December 7, 2020
PETER KAWAJA once again Vindicated since 1990 !!!
Gulf War Syndrome: Documents Prove UK and US Military Personnel were Injected with Untested Vaccines
Former Medic Whistleblower Exposes How the Military is Testing Experimental Vaccines on Soldiers Using them as "Lab Rats"
2021 - With the new experimental fast-tracked COVID mRNA vaccines, a type of vaccine never before introduced to the general public, vaccine awareness and hesitancy is at an all-time high, and rightfully so.

However, for those of you just starting to investigate the issue of vaccines for the first time, you need to be aware that this is not a new issue, and many of us having been exposing the evil agendas behind vaccines for years.
The U.S. military has been at the forefront of vaccine development for use in warfare, not "public health," and they have a long history of testing experimental vaccines on our own troops.

When things go wrong and people are killed or harmed by these experimental vaccines, it is covered up, and often blamed on something else.
One of the first records of this happening was in 1918, at Fort Riley, in Kansas, during WWI. The soldiers were injected with an experimental bacterial meningitis vaccine.

The vaccine went horribly wrong, and a strain of bacterial pneumonia created a pandemic that ended up killing 50-100 million people.

You never heard about this? That's because it was covered up and renamed "the Spanish Flu."
"Gulf War Syndrome"
In more recent times, there is now solid documentation backing up the fact that the military tested an experimental anthrax vaccine on our military members due to the alleged threat that Iraqi leader Saddam Hussein had "weapons of mass destruction" that were a threat to the U.S. Military, which were supposed to include anthrax.

We may never know how many of our military members died, or were permanently disabled due to this vaccine, but for years the military tried to cover it up as a "mystery disease" known as "Gulf War Syndrome."
In 1990, the recruitment of soldiers commenced for preparation to fight against Iraq in the Gulf War. On January 4, 1991, mass vaccination programs began, supposedly to protect the soldiers against the chemical warfare with which they may or may not come into contact.
We know that this list of vaccines should have also included the now discontinued MMR vaccination, Pluserix and the pertussis vaccination.
This is because the original supply agreement between the UK government and SmithKline & French shows that SmithKline & French agreed to distribute 1,400,000 Pluserix vaccinations (Urabe MMR) to the UK for use on the UK's babies and the armed forces.
The agreement, which was signed in August 1988, stated:
This Agreement's designated contract reference is N1D0288.

SK&F have agreed to supply and NHS have agreed to purchase for onward sale to United Kingdom Health Authorities and the Armed Forces 1,400,000 doses of "Pluserix" (Measles, Mumps, Rubella) vaccine at a cost of 3.80 per dose (exclusive of value added tax) to NHS of as NHS shall require to facilitate the United Kingdom Measles, Mumps and Rubella vaccination campaign which commences on 3rd October 1988. The supply of vaccine shall be upon the terms of this agreement.
"…the original supply agreement between the UK government and SmithKline & French shows that SmithKline & French agreed to distribute 1,400,000 Pluserix vaccinations (Urabe MMR) to the UK for use on the UK's babies and the armed forces."
As it turned out, the vaccines that were given to these men and women were probably as dangerous as the chemical warfare would have been, and many of the men and women have since reported lasting effects from the chemicals and toxins with which they were vaccinated.
As mentioned, many of the vaccines given to the innocent young men and women at the time were either unlicensed or untested products. One paper, written in August 1990 by the Ministry of Defense, stated how soldiers should receive the anthrax vaccination:
The efficiency of the vaccine can be enhanced by the simultaneous administration of a licensed whooping cough vaccine or an unlicensed adjuvant subject to availability of these items. There is animal evidence that protection is not only enhanced but extended by these combinations to include the so-called "Vaccine resistant strains."
The wording of this paper suggests that the soldiers were being given vaccinations that were previously untested on humans.
It is difficult for anyone to truly comprehend what the soldiers endured. It appears that, instead of being protected, these brave men and women were used solely as guinea pigs to test out various vaccines, chemicals and poisons. Is it really surprising that they are suffering ill effects many years later?
US Military Also Received Untested and Unlicensed Vaccines Including the Anthrax Vaccine
Since 1998 we have given the mandatory anthrax vaccinations to over 600,000 of our young men and women serving in the military. Extensive research has revealed that many of them have died. Reports are that thousands more are ill.
We do know that the vaccine given them was not approved by the FDA and we do know that refusal to take the shots has resulted in dishonorable discharge, fines and prison. We do know that mandatory anthrax vaccinations are set to continue.
Did a Military Experimental Vaccine in 1918 Kill 50-100 Million People Blamed as "Spanish Flu"?
THE DISEASE WHICH KILLED SO MANY WAS NOT FLU OR A VIRUS. IT WAS BACTERIAL.
During the mid-2000's there was much talk about "pandemic preparedness." Influenza vaccine manufacturers in the United States received billions of taxpayer dollars to develop vaccines to make sure that we don't have another lethal pandemic "flu," like the one in 1918-19.
Capitalizing on the "flu" part of Spanish flu helped vaccine manufacturers procure billion dollar checks from governments, even though scientists knew at the time that bacterial pneumonia was the real killer.
In 2018, the Pharmaceutical industry is the largest campaign donor to politicians and the largest advertiser in all forms of media, so not much has changed over 100 years.
This story will likely be ignored by mainstream media because their salaries are paid by pharmaceutical advertising.
The next time you hear someone say "vaccines save lives" please remember that the true story of the cost/benefit of vaccines is much more complicated than their three word slogan. Also remember that vaccines may have killed 50-100 million people in 1918-19. If true, those costs greatly outweighed any benefit, especially considering that plumbers, electricians, sandhogs and engineers did, and continue to do, the real work which reduces mortality from disease.
This was a mere snippet - what you still do not know and not told or covered by MSM or Alternative PAY-triot FOR PROFIT Media is the War Crimes Suit by Peter Kawaja - that COVID-19/COVID-1984 is tied to the original IND's, INP's and forced Vaccines enhanced from ABE & FIRST FLIGHT - concocted under THE US SPECIAL VIRUS CANCER [PROGRAM], AIDS-EBOLA-GWS) on our US Military - which is now going to be administered to all Active Duty Military, as well as to the WORLD POPULATION.
See the various documents on this website reference Dr. Garth Nicolson and his role in the US Special Virus Program, how he and Joyce Riley were used as the controlled opposition mouthpieces to LIE to the American Population (and world) steering them to the fraudulent Riegle Report (103 National Congress) telling veterans they were sick because of WMD used by Saddam. Nicolson never told Veterans of his role in the USSVCP yet is still promoted by the government and film makers on Vaccines. They are ALL complicit treasonous whores.
FOR THE REAL HISTORY AND WHAT CAN STILL BE DONE TO FIGHT COVID-1984 and help those remaining alive today from Operation Desert Storm to PRESENT DAY, contact Peter Kawaja.
Will President Trump Take Down the Pedophiles as Q Claims or is He a "Trojan Horse"?
Brian Shilhavy
Today, as we end the year 2020 with signs of civil war in the U.S., and external threats against our nation from abroad, the question that we need to be asking is are we about to get what we deserve from a just God who can no longer tolerate the shed blood and sexual trafficking of America's children?
The highest government official that has been arrested under Trump's administration, to our knowledge, was Arizona Maricopa County Assessor Paul Petersen. But no other officials were brought to justice, including judges that participated in approving his adoptions.
Arkansas State Senator Linda Collins-Smith was investigating this and even traveled to Arizona to learn more, but then was murdered.
The reasons why these people are never brought to justice are obvious. Because the people in power who could actually do something to bring a stop this, are themselves complicit, or at least have been at some point, and that probably includes all past U.S. presidents in modern times.
The ones who are not complicit, such as Linda Collins-Smith and the late Georgia State Senator Nancy Schaefer, are simply removed and usually found dead later.
Because if anyone in a position of power really wanted to do something about this, we have exposed plenty of cases of the deepest corruption in child sex trafficking that could easily bring down the whole industry. And even before we came along to start Medicalkidnap.com many other brave journalists have exposed much of this.
Anyone who still thinks that President Trump can actually clean up the child sex trafficking business really does not understand the depth of this problem and understand that it is way beyond the ability of Trump to do anything, even if that was on his agenda. He has had 4 years now, and it is business as usual as no one in high positions have come to justice.
At the end of 2016 the leaked Podesta emails and the work of Julian Assange through Wikileaks exposed this network among the rich and powerful in what was called Pizzagate.
But the entire leak was politicized by both the Democrats and the Republicans while Pizzagate was dismissed as a "conspiracy theory," while Julian Assange now sits in prison in the UK wasting away and barely alive, as advocates appeal to Trump to pardon him.
Will he? Or does President Trump want to bury Pizzagate too, and is the Q movement a CIA psyop to admit that the problem exists because it is so prevalent now that they can no longer hide it from the public, but make sure no one investigates President Trump's role in all this in the past?
President Donald Trump and Melania Trump were most definitely associated with Jeffrey Epstein in the past, as photos and videos of them together are all over the Internet.
In October we republished the article by Leland Nally published at Mother Jones where Leland got a hold of Epstein's "Little Black Book" and called every single number in the book over the period of a few months. See:
As I wrote back then, this is one of the most incredible pieces of journalism I have ever read!
And yes, both Donald Trump and Melania Trump are in Epstein's book, which of itself does not prove guilt or participation in his operation. But they are there.
Regardless of whether or not President Trump has ever been involved in this dark business of child sex trafficking, one thing is for certain: He alone is powerless to stop it.
And as President Trump is showing his allegiance to the pharmaceutical industry and actually promoting the dangerous new experimental COVID vaccine, many now on Right-wing social media platforms are beginning to ask if President Trump is a "Trojan Horse."
Medical Tyranny, especially now through COVID, is being used by the Satanists to try and usher in their New World Order now branded as "The Great Reset."
I have previously exposed who the main person is behind all this, which is Satan himself. See:
Unmasking Who is Behind the Plandemic and Rioting to Usher in the New World Order
I know it is hard to imagine just how evil America has become, and it took me many years to figure all of this out myself.
But it's true. The Globalists who control the world financial system are very evil people. Many of them are active participants in the Occult, participate in child sex trafficking, and are addicted to adrenochrome.
There are no political solutions to this problem. And religious institutions are part of the problem, not the solution. And that includes Christians.
There is only one solution. God has to intervene.
One of the principles, which may very well have existed in Jerusalem during the First Century just prior to the destruction of Jerusalem in AD 70, is that to participate in the economic system of the world, one must have the "mark of the beast" which is represented by the number 666 in Revelation.
He also forced everyone, small and great, rich and poor, free and slave, to receive a mark on his right hand or on his forehead, so that no one could buy or sell unless he had the mark, which is the name of the beast or the number of his name. This calls for wisdom. If anyone has insight, let him calculate the number of the beast, for it is man's number. His number is 666. (Revelation 13:16-18)
As to the number 666, which John writes in Revelation is "man's number," it is interpreted by some to be symbolic of the Kingdom of Darkness and Satan's domain on earth, representing the World System under his control.
As a number of imperfection, one interpretation of why it is repeated three times is because of the 3 aspects of Satan's kingdom on earth: commerce, government, and religion.
MAKE NO MISTAKE
THIS IS GLOBAL GENOCIDE
THE END OF THIS WORLD
DEMONS AGAINST HUMANS
TRUMP EITHER DOES NOT KNOW HIS DESTINY OR HAS TOO MUCH HUBRIS, DOES HE REALLY BELIEVE HE IS GOD OR GOD'S MESSENGER? IF SO HE IS FIGHTING "THE CROWN" / THE CHURCH / THE VATICAN - THE POPE, LUCIFER ANTICHRIST OF PROPHECIES
Group Overseeing $10 Trillion, Called "Guardians for Inclusive Capitalism", Signs Partnership With
The Vatican
Today in "news that's going to give conspiracy theorists a full-on stroke"...
It was announced this week that a "historic new partnership" between the Vatican and "some of the world's largest investment and business leaders" called the "Council for Inclusive Capitalism" has officially launched.
Oh, and did we mention it is being helped along by a member of the Rothschild family, Lynn Forester de Rothschild? The "council" says its formation "signifies the urgency of joining moral and market imperatives to reform capitalism into a powerful force for the good of humanity", according to a release published Tuesday.
"Under the moral guidance" of the Pope, it says it "invites companies of all sizes to harness the potential of the private sector to build a fairer, more inclusive, and sustainable economic foundation for the world."
And get this - the council is led by a "core group of global leaders" called the Guardians for Inclusive Capitalism. We swear we didn't steal this narrative from a Marvel movie.
This group, who you have likely never heard of until today, apparently "meet annually with Pope Francis and Cardinal Turkson" and represents "more than $10.5 trillion in assets under management, companies with over $2.1 trillion of market capitalization, and 200 million workers in over 163 countries."
Pope Francis said in the council's press release: "An economic system that is fair, trustworthy, and capable of addressing the most profound challenges facing humanity and our planet is urgently needed. You have taken up the challenge by seeking ways to make capitalism become a more inclusive instrument for integral human wellbeing."
And by linking what appears to be the most powerful people on Earth - overseeing an ungodly amount of money - to the Vatican. Can we get an Amen?
Lynn Forester de Rothschild, Founder of the Council and Managing Partner of Inclusive Capital Partners, commented: "Capitalism has created enormous global prosperity, but it has also left too many people behind, led to degradation of our planet, and is not widely trusted in society. This Council will follow the warning from Pope Francis to listen to 'the cry of the earth and the cry of the poor' and answer society's demands for a more equitable and sustainable model of growth."
TWO CONSTITUTIONS IN THE UNITED STATES
The First was illegally suspended in favor of a Vatican "Crown" corporation in 1871

THE UNITED STATES IS STILL A BRITISH COLONY
(Book 607 pages)
Among the many great people Peter Kawaja met and many I lived with
for a time period during my years in Appalachia was
THE INFORMER
THE JESUIT OATH - FACT OR FICTION?!
"I.............................., now in the presence of Almighty
God, the Blessed Virgin Mary, the Blessed Michael the Archangel,
The Blessed St. John the Baptist, the Holy Apostles, Peter and
Paul, and all the Saints, sacred hosts of Heaven, and to you, my
ghostly Father, the Superior General of the Society of Jesus,
founded by St. Ignatius Loyola, in the Pontification of Paul the
Third, and continued to the present, do by the womb of the
virgin, the matrix of God, and the rod of Jesus Christ, declare
and swear that his holiness, the Pope, is Christ's Vice-regent,
and is the true and only head of the Catholic or Universal Church
throughout the earth; and that by the virtue of the keys of
binding and loosing, given to his Holiness by my Savior, Jesus
Christ, he hath power to depose heretical kings, princes, states,
commonwealths and governments, all being illegal without his
sacred confirmation, and that they may be safely destroyed.
"Therefore, to the utmost of my power, I shall and will
defend this doctrine and his Holiness' right and customs against
all usurpers of the heretical or Protestant authority, whatever
especially the Lutheran Church of Germany, Holland, Denmark,
Sweden and Norway, and the now pretended authority of the Church
of England and Scotland, the branches of the same, now
established in Ireland, and on the continent of America and
elsewhere....I so now renounce and disown any allegiance as due
to any heretical king, prince or state named Protestant or
Liberals, or obedience to any of their laws, magistrates or officers.
"I do further declare, that I will help and assist and
advise all or any of his Holiness' agents in any place wherever I
shall be, and do my utmost to extirpate the heretical Protestant
of Liberal doctrines and to destroy all their pretended powers,
legal or otherwise.
"I do further promise and declare, that notwithstanding I am
dispensed with to assume any religion heretical, for the
propagating of the Mother Church's interest, to keep secret and
private all her agents' counsels, from time to time as they may
instruct me, and not to divulge directly or indirectly, by word,
writing, or circumstances whatever; but to execute all that shall
be proposed given in charge or discovered unto me, by you, my ghostly father.....
"I do further promise and declare, that I will have no
opinion or will of my own, or any mental reservation whatever,
even as a corpse or cadaver (perinde ac cadaver) but
unhesitatingly obey each and every command that I may receive
from my superiors in the Militia of the Pope and Jesus Christ.
"That I will go to any part of the world, whatsoever,
without murmuring and will be submissive in all things whatsoever
communicated to me.....I do further promise and declare, that I
will, when opportunity presents, make and wage relentless war,
secretly or openly, against all heretics, Protestants and
Liberals, as I am directed to do to extirpate and exterminate
them from the face of the whole earth, and that I will spare
neither sex, age no condition, and that I will hang, waste, boil,
flay, strangle and bury alive these infamous heretics; rip up the
stomachs and wombs of their women and crush their infants' heads
against the wall, in order to annihilate forever their execrable race.
That when the same cannot be done openly, I will secretly
use the poison cup, the strangulation cord, the steel of the
poniard, or the leaden bullet, regardless of honor, rank, dignity
or authority of the person or persons whatsoever may be their
condition in life, either public or private, as I at any time may
be directed so to do by any agent of the Pope or superior of the
brotherhood of the holy faith of the Society of Jesus."
Congressional Record, House Bill 1523, Contested election case of
Eugene C. Bonniwell, against Thos. S. Butler, Feb. 15, 1913,
pages 3215-16, sited: The Suppressed Truth About The
Assassination Of Abraham Lincoln
PAY ATTENTION PEOPLE - READ SLOWLY & CAREFULLY
This brings us to the Declaration of Independence. Our freedom was declared because the king did not fulfill his end of the covenant between king and subject. The main complaint was taxation without representation, which was reaffirmed in the early
1606 Charter granted by the king. It was not a revolt over being subject to the king of England, most wanted the protection and benefits provided by the king. Because of the kings refusal to hear their demands and grant relief, separation from England became the lesser of two evils. The cry of freedom and self determination became the rallying cry for the colonist. The slogan "Don't Tread On Me" was the standard borne by the militias.

The Revolutionary War was fought and concluded when Cornwallis surrendered to Washington at Yorktown. As Americans we have been taught that we defeated the king and won our freedom. The next document I will use is the Treaty of 1783, which will totally contradict our having won the Revolutionary War. (footnote 2).

I want you to notice in the first paragraph that the king refers to himself as prince of the Holy Roman Empire and of the United States. You know from this that the United States did not negotiate this Treaty of peace in a position of strength and victory, but it is obvious that Benjamin Franklin, John Jay and John Adams negotiated a Treaty of further granted privileges from the king of England. Keep this in mind as you study these documents. You also need to understand the players of those that negotiated this Treaty. For the Americans it was Benjamin Franklin Esgr., a great patriot and standard bearer of freedom. Or was he? His title includes Esquire.

An Esquire in the above usage was a granted rank and Title of nobility by the king, which is below Knight and above a yeoman, common man. An Esquire is someone that does not do manual labor as signified by this status, see the below definitions.

"Esquires by virtue of their offices; as justices of the peace, and others who bear any office of trust under the crown....for whosever studieth the laws of the realm, who studieth in the universities, who professeth the liberal sciences, and who can live idly, and without manual labor, and will bear the port, charge, and countenance of a gentleman, he shall be called master, and shall be taken for a gentleman." Blackstone Commentaries p. 561-562 "Esquire - In English Law. A title of dignity next above
gentleman, and below knight. Also a title of office given to sheriffs, serjeants, and barristers at law, justices of the peace, and others." Blacks Law Dictionary fourth ed. p. 641 Benjamin Franklin, John Adams and John Jay as you can read in the Treaty were all Esquires and were the signers of this Treaty and the only negotiators of the Treaty. The representative of the king was David Hartley Esqr..

Benjamin Franklin was the main negotiator for the terms of the Treaty, he spent most of the War traveling between England and France. The use of Esquire declared his and the others British subjection and loyalty to the crown.

In the first article of the Treaty most of the kings claims to America are relinquished, except for his claim to continue receiving gold, silver and copper as gain for his business venture.

Article 3 gives Americans the right to fish the waters around the United States and its rivers. In article 4 the United States agreed to pay all bona fide debts. If you will read my other papers on money you will understand that the financiers were working with the king. Why else would he protect their interest with this Treaty?

I wonder if you have seen the main and obvious point? This Treaty was signed in 1783, the war was over in 1781. If the United States defeated England, how is the king granting rights to America, when we were now his equal in status? We supposedly
defeated him in the Revolutionary War! So why would these supposed patriot Americans sign such a Treaty, when they knew that this would void any sovereignty gained by the Declaration of Independence and the Revolutionary War? If we had won the Revolutionary War, the king granting us our land would not be necessary, it would have been ours by his loss of the Revolutionary War. To not dictate the terms of a peace treaty in a position of strength after winning a war; means the war was never won. Think of other wars we have won, such as when we defeated Japan. Did McArther allow Japan to dictate to him the terms for surrender? No way! All these men did is gain status and privilege granted by the king and insure the subjection of future unaware generations.

Worst of all, they sold out those that gave their lives and property for the chance to be free.

When Cornwallis surrendered to Washington he surrendered the battle, not the war. Read the Article of Capitulation signed by Cornwallis at Yorktown (footnote 3)
Jonathan Williams recorded in his book, Legions of Satan,

1781, that Cornwallis revealed to Washington during his surrender that "a holy war will now begin on America, and when it is ended America will be supposedly the citadel of freedom, but her millions will unknowingly be loyal subjects to the Crown."...."in less than two hundred years the whole nation will be working for divine world government. That government that they believe to be divine will be the British Empire."
Brit-ish = Covenant Man
JESUS WAS A TAX PROTESTOR
Roughly two thousand years ago, the government of ancient Rome was facing a serious problem.

The tributium capitus, or poll tax, they had imposed across their provinces was becoming unpopular.

And there was a growing minority of Roman subjects who felt they were being forced to pay an overly burdensome and disproportionately high tax bill.

Things got so bad that there were small revolts, especially in one of Rome's critical eastern provinces where many simply refused to pay.

Eventually the authorities were able to round up the leader of the movement-- a youthful, charismatic local artisan who was brought before the provincial prefecture.

After reviewing the evidence, though, the prefecture found that the leader had actually done nothing illegal… and according to ancient texts, announced to the public:

"I have examined him in your presence and have found no basis for your charges against him. . ."

But the crowd was out for blood. They thought the resistance leader was arrogant and disrespectful of their values. And they wanted him put down for good.

Plus, the central government in Rome wanted to send a strong message to strike fear in those subverting their authority and not paying tax.

So in the end the prefecture bowed to pressure, and the resistance leader was sentenced to death.

His name was Jesus Christ.

Two thousand years later, people are out for blood again. And it's only the beginning.

Continued inside in the series:

Lucifer

Census of Augustus Caesar
Luke 2:1 There went out a decree from Caesar Augustus that all the world should be registered.
This would probably be the census referred to in Luke 2:2. The decree from Caesar Augustus that 'all the world should be taxed' necessarily involved taking a census of who there was to be taxed. The statement 'all the world' in Luke obviously reflects the arrogance of the Roman rulers who considered themselves masters of the world, although they never conquered all of it.
PK: OH YES They are very close to conquering the whole world under a NEW WORLD ORDER. see Papal Bull 1567.
Americans think they are free but are living in an open air prison as slaves on the plantation who are unaware their oppressors are THE SERPENT PEOPLE.

ROME IS STILL RULING AKA LORDING IT OVER YOU
THROUGH THE CROWN CORPORATION
SEE INSIDE DOCUMENT: Two Constitutions in the United States. The First was illegally suspended in favor of a Vatican "Crown" corporation in 1871
Since 1871 the United States president and the United States Congress has been playing politics under a different set of rules and policies. The American people do not know that there are two Constitutions in the United States. The first penned by the leaders of the newly independent states of the United States in 1776. On July 4, 1776, the people claimed their independence from the Crown (temporal authority of the Roman Catholic Pope) and Democracy was born.

And for 95 years the United States people were free and independent. That freedom ended in 1871 when the original "Constitution for the United States of America" was changed to the "THE CONSTITUTION OF THE UNITED STATES OF AMERICA".
The Congress realized that the country was in dire financial straits, so they made a financial deal with the devil – the Crown (a.k.a. City of London Corporation – est. by the Catholic Church on Jan 1, 1855 ) thereby incurring a DEBT to the Pope. The conniving Pope and his central bankers were not about to lend the floundering nation any money without some serious stipulations. So, they devised a way of taking back control of the United States of America and thus, the Act of 1871 was passed. With no constitutional authority to do so, Congress created a separate form of government for the District of Columbia.
With the passage of "the Act of 1871" a city state (a state within a state) called the District of Columbia located on 10 sq miles of land in the heart of Washington was formed with its own flag and its own independent constitution – the United States of America's secret second constitution.
The constitution for the District of Columbia operates under tyrannical Vatican law known as "Lex Fori" (local law). When congress illegally passed the act of 1871 it created a corporation known as THE UNITED STATES (inc.) and a separate form of government for the District of Columbia. This treasonous act has unlawfully allowed the District of Columbia to operate as a corporation outside the original constitution of the United States and in total disregard of the best interests of the American citizens.
People will Start Dying a Few Months to a year after their First mRNA Vaccination

listen to this audio excerpt and see how it relates to Part-2
(GWS/COVID VAX) Mutates and comes back with a vengeance
The goal of the vaccine operation is to get past the blood-brain barrier. Dr. Larry Palevsky explains in simple terms FROM THE PHARMACEUTICAL LITERATURE itself how this is accomplished.
The human brain is the target.
I want To Beat Them To Death'; Left-Wing Journalist Threatens Anti-Maskers & Christians During Unhinged Rant
Not one current government official is telling you the truth about what is really going on.
Not one!
And not one is actually trying to protect the people from bankruptcy and disaster even when they pretend to care by issuing "eviction" bans or postponements.
What good does that do in the long run?
Even Leftist Mayor DeBlasio in New York City lies when he tells part of the truth. Deception is often accomplished by sharing partial truth but by also withholding the most important facts. DeBlasio stated, "'I like to say very bluntly our mission is to redistribute wealth."
A HALF Truth is a WHOLE Lie
We can prove that they're all lying or withholding the truth very easily. The leaders around the world say that they wish to keep the people "safe" but then they shut down the small businesses but not the large corporations. So, what happens?
Small businesses around the world are failing at truly horrific rates. Globally, hundreds of millions will eventually also lose their job. What happens then? They can't pay the mortgage on their homes, condominiums, or rent. What happens then? The banks foreclose on them and they lose virtually everything they worked so hard to accomplish. They lose the ability to support their families. In many cases, the people are crushed financially, psychologically, and spiritually.
What happens with the property of all those millions of small businessmen and women around the world? The banks foreclose and re-acquire all those properties or business assets.
Eviction bans that do not erase financial obligations to pay the rent or mortgages from months of lockdowns or job loss do nothing in the long term! These only provide the illusion of normalcy and the illusion that the government leaders care.
When the time comes, homelessness will be unleashed on huge numbers of the former business owners and workers in the world. The backbone of our society is being devastated and excised while the owners of the banks rake in ever-increasing immeasurably vast wealth.
If government leaders were sincere in their effort to "protect the people" they would have declared and enforced a global or nationwide "bank holiday" where all mortgages, rents, and other financial obligations were not only postponed but stopped completely for the period of lockdowns. They did not do that!
That proves their deception! They could have done so and chose not to do so!
The ultra rich globalists are actually robbing the wealth of the entire middle class throughout the world.
This is global theft on a scale never before accomplished. It's not robbing one bank, but robbing the assets of all the non-elite, ordinary middle class people contained in all the banks of the world.
They are "redistributing" the wealth of the people of the world to the ultra rich! Global theft!
Seeing the realities as they are is to be transformed into a radical. You see the world as it is, not as you are led to believe by those who indoctrinate you constantly with the illusion they wish you to embrace.
They stab the people of the world "in the back" financially and also are harming the people's health, all the while promising to keep them "safe." How can they be safe when they are being forced into bankruptcy and homelessness. Are they talking about that every night on the nightly news? You know they are not.
This is not keeping the people "safe" at all!
And by withholding ordinary treatment for whatever COVID actually is, they have caused many to die unnecessarily!
Some of those who are ill are ill with regular influenza that they no longer are testing for. Some are ill with other respiratory illnesses, and some are ill with whatever COVID is (which is not just a respiratory syndrome but also a blood disease involving very strange blood coagulation issues with terrible effects).
There are many variant clinical "pictures" that are all called COVID, and the testing for COVID is obviously flawed since they use many more cycles of PCR than are recommended thereby giving huge increases in those found to be "positive" for bits of genetic code that might indicate a common cold or other things, but only may indicate a new coronavirus.

By pushing many to be injected with experimental genetic vaccine(s) or other experimental variants, the leaders of the world are conducting a never-before held global experiment on the people of the world. Robbing them financially, pushing them into bankruptcy, and then using them as global guinea pigs. And that is Bill Gates' and other globalist depopulationists' goal!
They have openly stated that. What is Bill Gates record with the vaccines his "Bill and Melinda Gates Foundation" have pushed around the world? It's horrific! Terrible! Young women were involuntarily made sterile through the use of Gates-backed vaccines. Even after that he stated that he "loves vaccines!"
There is something seriously wrong with this man!
See:
BILL GATES BEGINS HIS SECOND GENOCIDE
01/02/2021 Posted by Kevin Edward White
By Father David Nix, Pilgrim Priest
https://catholiccitizens.org/news/93859/bill-gates-begins-his-second-genocide/

If you don't think vaccines can work to depopulate the Earth, think again! They've been working on vaccine delivered "birth control" for decades
Anti-fertility vaccines
Talwar GP, Raghupathy R. Vaccine. 1989 Apr;7(2):97-101. doi: 10.1016/0264-410x(89)90043-1. PMID: 2665354.
https://pubmed.ncbi.nlm.nih.gov/2665354/
So, we know that vaccines can be used to decrease fertility or outright kill the living embryonic human already within. That's what so-called "birth control" agents do. Though there are campaigns to deny that Gates' promoted vaccine programs resulted in sterilizing women in Kenya, many still believe that is exactly what happened.
Though there is constant indoctrination to tell us all vaccines are virtually completely "safe," the data tells us something else. And ask yourself this question:
If vaccines were so safe, why would the government give legal immunity to the vaccine manufacturers? They have done so over and over again. The COVID vaccine manufacturers have total immunity. You can't sue them!
Public Readiness and Emergency Preparedness Act
https://www.phe.gov/Preparedness/legal/prepact/Pages/default.aspx
SO WHO IS COMMITTING GLOBAL GENOCIDE?
ALL WORLD GOVERNMENTS
NY SB416: QUARANTINE CAMPS & FORCED VACCINATIONS - DO YOU LOVE FREEDOM ENOUGH? [BITCHUTE EXCLUSIVE]
CRITICAL YOU LISTEN ATTENTIVELY TO THESE VIDEOS
Covid-1984 And The Agendas To Come
The below video is well rounded covering many key points
everyone including and especially claimed Christians
PAY CLOSE ATTENTION
And Stop arguing about whether Trump or Biden
BOTH WILL ENFORCE WARP SPEED COVID FORCED VACCINE AGENDA
It is a LUCIFERIAN / SATANIC AGENDA
Serial Killer Fauci Forgets Which Arm He Injected With Fake Coronahoax Vaccine
TODAY THEY WERE FORCED TO ADMIT THAT 'COVID-19' DOES NOT EXIST
----------------------------------
DEC.24.2020 AUDIO INTERVIEW
COUNTER INSURGENCY STUDIES & OBSERVATIONS GROUP
ANDREW COLESANTI / COINSOG & PETER KAWAJA / AGWVA
INSURRECTION ACT v. INSURRECTION CLAUSE

listen here

Email: COINSOG [PIO@COINSOG.GROUP]
MEDIA RELEASE: Insurrection Clause 14 DEC 2020
Biden and Harris Disqualified Themselves
Here is a short clip on qualified immunity....
Another vid on qualified immunity
Peter Kawaja Lawsuit against Bush & Agents on behalf of all Gulf War Veterans
They pled for "immunity under color of law - even if they committed these misconduct"
Referring to the 34 Counts of War Crimes and Crimes against America, as "misconduct"
Page-1 of 17 <> Page-2 of 17 REDACTED
WILL TRUMP ENACT/INVOKE/IMPLEMENT MARSHALL LAW
Will he sell out the American People?
THE COUNTDOWN IS ON TO INAUGURATION DAY
5 BILLION PEOPLE WILL BE KILLED (?) OR NOT
THAT INCLUDES AMERICANS WHO
REFUSE TO TAKE THE COVID-VAX
HERE IS A RED FLAG - WHAT TRUMP AND CONGRESS ARE DOING, BIDEN WILL BE EVEN MORE RABID:
Covid-19 [COVID-1984] catch-22: Regime-change policies come packed with US pandemic relief
The US Congress' $900 billion Covid-19 relief bill was packaged with $1.4 trillion in omnibus spending that includes tens of billions for war, weapons, and regime change abroad, from anti-Russia and anti-China initiatives to $3.3 billion for Israel's military.
The longest piece of legislation in United States history, containing both a coronavirus relief package and the annual omnibus spending package, quickly passed through Congress on December 22, with little opposition. While technically separate bills, the omnibus and stimulus were debated and passed together, at the same time.
The massive piece of legislation — a staggering 5,593 pages in length — lays bare the priorities of the US government, prioritizing regime change in foreign nations and the imperatives of empire over the basic needs of Americans.
In just a few hours, it passed through the House of Representatives by 359-53, and through the Senate by 92-6.
While the US public was forced to grovel for months for a $600 direct payment, the same piece of legislation pumps billions of dollars into "democracy programs" — US government code for regime-change operations via civil society NGOs — and foreign military assistance. The measly $600 survival checks pale in comparison to the massive foreign spending on regime change and titanic allocations to prop up US-friendly authoritarian militaries.
On so-called "Democracy Programs" alone, the legislation appropriates $2.417 billion, and $6.175 billion on the "Foreign Military Financing Program." Another $112.9 million is appropriated for "International Military Education and Training."
$6 billion more is allocated toward the domestic procurement of US Air Force missiles and US Navy weapons of war. This is in addition to the $740 billion defense bill passed earlier in December.
By contrast, the stimulus package comes at a value of $900 billion, with the largest portion devoted to business bailouts.
The Federal News Network reports that the $1.4 trillion omnibus includes $671.5 billion allocated to "base defense spending," with another $77 billion going to "overseas contingency operations."
Some unnecessary nuance meant to obfuscate a political reality which reveals

how little the US government cares about its citizens

: the foreign funding is in the omnibus bill and coronavirus relief in a stimulus bill, but the bills were combined into a single piece of legislation

TRUMP is a smooth talker using WORDS OF CRAFT - and we Americans are FOOLS to believe Trump or Biden - who are Elitists Whores, and Americans will march to get their COVID Vaccine, the end of a free America, and the end of Humanity. ENDLESS WARS MAKES THEM RICHER as we starve before feeding your children and you being able to pay rent or your mortgage.
YES - The WORLD HATES US, they don't ENVY us.
Are Americans willing to actually do anything to stop this madness?
Is this country facing the end of times? Are the people in this country oblivious to any reality or truth, or are they simply consumed by ignorance, passivity, cowardice, and mediocrity? Will this onslaught of tyranny by the controlling class and the politicians continue unabated, or will enough wake up in time to stand against the total decimation of their lives, their property, their freedom, and their land? What could possibly motivate the masses to voluntarily accept their own servitude, a servitude that can only lead to their imminent demise?
Even the most simplistic life forms on this planet possess the basic instinct of self defense, so why is it that the supposed most intelligent of all living beings can be controlled and brutalized to the point of extinction, without lifting a finger to protect their own interests? Today in America, the people are drowning in a pool of their own blood, while their chosen masters are feasting on the remains.
There is very little time left to change this course we are on today, as this plot toward the great reset of the world is close at hand. In the past when liberty has been threatened, some fought back and won, but most sat back and waited, hoping others would come to their rescue, and save them from themselves. Every time threats have come and gone, there was less freedom and much more control.
Each and every tyrannical event brought an assault against liberty that remained long after any so-called 'return to normal' was expected. 'Normal' has been forever changing, meaning every new normal resulted in less freedom and more authoritarian measures.
That is until today, as now we face an end to any freedom, and a life of submission and enslavement. Unless and until the current ruling oligarchy is eliminated or weakened to the point of impotence, and by whatever means necessary, the tyranny will run its course until it has total control or the entire system collapses under its own weight.
Throughout history, kingdoms, states, and nations have come and gone. Empires reign, but always eventually fall. After societal failure, a better system may be in place temporarily, as happened here in this country after the ousting of British rule, but due to power, greed, and weak and complacent populations, the collapse of societies has always been inevitable. This one is no different. The real question is how long will it last?
Considering the 'assumed' founding, this nation has only existed for a little over 240 years. Historically speaking, this is a very short time indeed, but the march toward a totalitarian end is near. We are now on the brink of that precipice, with one foot already dangling over the cliff. There will be no return to 'normal' or any notion of freedom, unless a complete dismantling of this very flawed governing system is forthcoming. That can only happen if a majority of the people not only desire it, but also are willing to take any and all risk to regain their own independence.
At this stage, our probable downfall will not be due to the few evil oligarchs that are perpetrating this fraud called a 'virus pandemic,' it will be due to a complete abandonment of self-responsibility by the people themselves. This truth has to be acknowledged before any relief is possible. So long as blame is spread wide in order to appease the feeble psyche of the pitiful masses, and no accountability for one's own life and existence is accepted, then no resolution will be attainable.
We now live in a society that has lost its ability to function without rule. The herd is forever looking to find a master instead of looking to self. So long as this attitude is present in the majority, individual sovereignty will not prevail, and a population of order-takers and rule-followers will be the result.
That cannot lead to freedom, but only to complete subjugation of the American people. Five hundred years ago, Étienne de La Boétie wrote "The Politics of Obedience and The Discourse of Voluntary Servitude." The people of this country have voluntarily given up their freedom, and in the process have become obedient serfs. In this passage below, he summed up the essence of voluntary slavery through obedient behavior.
"It amazes us to hear accounts of the valor that liberty arouses in the hearts of those who defend it; but who could believe reports of what goes on every day among the inhabitants of some countries, who could really believe that one man alone may mistreat a hundred thousand and deprive them of their liberty? Who would credit such a report if he merely heard it, without being present to witness the event? And if this condition occurred only in distant lands and were reported to us, which one among us would not assume the tale to be imagined or invented, and not really true? Obviously there is no need of fighting to overcome this single tyrant, for he is automatically defeated if the country refuses consent to its own enslavement: it is not necessary to deprive him of anything, but simply to give him nothing; there is no need that the country make an effort to do anything for itself provided it does nothing against itself. It is therefore the inhabitants themselves who permit, or, rather, bring about, their own subjection, since by ceasing to submit they would put an end to their servitude."
How many times have Americans criticized those in other lands for allowing tyrants to rule over them without rising up to protect their own liberty? How many times have those in this country condemned totalitarian monsters across the world, and called for them to be removed or killed? How many times have Americans cheered for aggressive war against other nations because they lived under brutal regimes? How many times have Americans bragged about being exceptional, and falsely declared that they are freest people on earth? How many times has this American population allowed that same tyranny and brutality here at home and done nothing?
I can tell you, most all in this country are voluntarily allowing this takeover today, and are doing absolutely nothing to stop it. Civil disobedience and mass dissent would be enough to quell this onslaught of government lies, carnage, murder, and liberty destruction, but while you condemn others, you sit idle and watch your own freedom taken away without ever lifting a finger to stop it. Shame on all of you who refuse to disobey, and refuse to defend your own freedom!
EXCERPT FROM: Politics of Obedience / https://cdn.mises.org/Politics of Obedience.pdf
The Discourse of Voluntary Servitude is lucidly and coherently structured around a single axiom, a single percipient insight into the nature not only of tyranny, but implicitly of the State apparatus itself. Many medieval writers had attacked tyranny, but La Boétie delves especially deeply into its nature, and into the nature of State rule itself. This fundamental insight was that every tyranny must necessarily be grounded upon general popular acceptance. In short, the bulk of the people themselves, for whatever reason, acquiesce in their own subjection. If this were not the case, no tyranny, indeed no governmental rule, could long endure.

Hence, a government does not have to be popularly elected to enjoy general public support; for general public support is in the very nature of all governments that endure, including the most oppressive of tyrannies. The tyrant is but one person, and could scarcely command the obedience of another person, much less of an entire country, if most of the subjects did not grant their obedience by their own consent.
This, then, becomes for La Boétie the central problem of political theory: why in the world do people consent to their own enslavement? La Boétie cuts to the heart of what is, or rather should be, the central problem of political philosophy: the mystery of civil obedience. Why do people, in all times and places, obey the commands of the government, which always constitutes a small minority of the society? To La Boétie the spectacle of general consent to despotism is puzzling and appalling:
I should like merely to understand how it happens that so many men, so many villages, so many cities, so many nations, sometimes suffer under a single tyrant who has no other power than the power they give him; who is able to harm them only to the extent to which they have the willingness to bear with him; who could do them absolutely no injury unless they preferred to put up with him rather than contradict him. Surely a striking situation! Yet it is so common that one must grieve the more and wonder the less at the spectacle of a million men serving in wretchedness, their necks under the yoke, not constrained by a greater multitude than they...
And this mass submission must be out of consent rather than simply out of fear:
Shall we call subjection to such a leader cowardice? ... If a hundred, if a thousand endure the caprice of a single man, should we not rather say that they lack not the courage but the desire to rise against him, and that such an attitude indicates indifference rather than cowardice?

When not a hundred, not a thousand men, but a hundred provinces, a thousand cities, a million men, refuse to assail a single man from whom the kindest treatment received is the infliction of serfdom and slavery, what shall we call that? Is it cowardice? ... When a thousand, a million men, a thousand cities, fail to protect themselves against the domination of one man, this cannot be called cowardly, for cowardice does not sink to such a depth. . . . What monstrous vice, then, is this which does not even deserve to be called cowardice, a vice for which no term can be found vile enough . . .

click image
This presentation is optimized for OpenOffice, but will work in Microsoft Powerpoint. It combines the best knowledge, legal analysis, and explanation on the NDAA's detention provisions, as well as how it affects you, into one simple slideshow. Feel free to distribute, or show to a group, legislator, military veteran, federal agent or peace officer.
——————————————